EHA2021 virtual, the Annual Congress of the European Hematology Association (EHA) - offered a full scientific program from 9 until 17 June. On 9 July and 16 July, EHA will organize multiple EHA2021 Follow-up days, during which new content is released.
The HARMONY Alliance will be part of the Follow-up day: "Big data for clinicians", which is organized at 9 July in the afternoon. The EHA2021 congress platform is accessible until 15 August. EHA is a HARMONY Partner. Read more about EHA2021 >
---
EHA2021 Follow-up day: Big data for clinicians | 9 July 2021
---
You are invited to participate
Topic: "Working with the largest hematology database: the HARMONY Big Data Platform!"
More information, program an registration >
---
In hematology, we have been using Big Data to develop precision diagnostics and precision medicine approaches in blood cancer treatment for a long time already. We have been using genetic diagnostics to stratify patients in order to select the right treatment for the right patient. In addition, Hematologic Malignancies were among the first diseases where targeted therapies were implemented. One of the driving forces behind precision medicine in hematology is the HARMONY Alliance: a Public-Private Partnership for Big Data in Hematology. Funded by the Innovative Medicines Initiative (IMI) of the EU, HARMONY unites more than 100 European organizations, varying from medical associations and hospitals, to research institutes, patient organizations, pharmaceutical companies, and more.
---
EHA and HARMONY are organizing a dedicated session to offer clinicians and researchers insights in Big Data Analytics, Artificial Intelligence and sharing data in hematology by means of short lectures and live Q&As with experts.
---
Date/time: 9 July 2021 / 17:00 – 18:30 hrs CEST
HARMONY Partners presenting:

Brian Huntly, University of Cambridge [EHA Board Member]
Konstance Döhner, University Hospital Ulm [EHA Board Member]
Lars Bullinger, Charité
María Abáigar Alvarado, USAL-CSIC
Daniele Dall'Olio, University of Bologna
Mattia D'Agostino, University of Turin
Marta Sobas, Clinical Hospital of Wrocław
Ana Heredia Casanoves, GMV
---
How to participate in the live session of 9 July?
Participating in the EHA2021-HARMONY live session requires registration and payment.
HARMONY/HARMONYPLUS Partners, Associated Members, Patient Organizations and Community Members who are new to the EHA2021 Virtual Congress and its Conference Platform:

Please register here >

EHA offered us a special discount to register to EHA2021 Virtual Congress. Tickets to participate in the EHA-HARMONY Big Data for Clinicians Live Session on July 9th (17:00-18:30 CEST) include access to all current and new EHA2021 congress content (scientific presentations, abstracts, e-posters) until August 15th, 2021.
Registration fee EHA Member €69.00 | Registration fee NON-EHA Member €149.00. The registration fees include 21% Dutch VAT.

Please register here >

Are you a European based PhD student in hematology or bioinformatics? Email e.dewaal@ehaweb.org and apply for a free ticket.
Official EHA2021 Conference Participants can log onto the Congress Platform and navigate directly to the specific session.
---
Watch more presentations about big data for clinicians on-demand at the EHA2021 Congress Platform
Date/time: 9 July 2021 release at 16:00 hrs CEST
HARMONY Partners presenting:

Kimmo Porkka, University of Helsinki
Carsten Utoft Niemann, Rigshospitalet, Copenhagen University Hospital
Guillermo Sanz, Hospital Universitario La Fe
---
The HARMONY Alliance is an EHA2021 conference partner. HARMONY experts demonstrate the potential of big data to improve the treatment of hematologic malignancies in varous conference program features.Since the HARMONY launch in 2017, EHA invited HARMONY to participate in the EHA annual congresses.
---
About the EHA2021 Follow Up Days:
Day 1 - July 9 - Ageing and hematology & Best of Pediatric hematology & Big data for clinicians
Day 2 - July 16 - Basic science & Best of clinical practice/research
---
#bigdataforbloodcancer: Big Data analytics will accelerate better and faster treatment
The HARMONY Alliance is a European Public–Private Partnership for Big Data in Hematology that is capturing and mining Big Data on various Hematologic Malignancies/blood cancers. The HARMONY Alliance unites more than 100 organizations such as European medical associations, hospitals, research institutes, patient organizations, pharmaceutical and IT companies.
HARMONY uses Big Data analytics to accelerate the development of more effective treatments for blood cancer patients. Data are stored in HARMONY's Big Data Platform, which has already identified over 70,000 anonymized patient records, making it one of the largest databases of its kind. Leading research teams are currently using this wealth of information to answer critical questions about hematologic malignancies that cannot be addressed with other methods.
Join the HARMONY Alliance: watch the video and/or contact us now >
---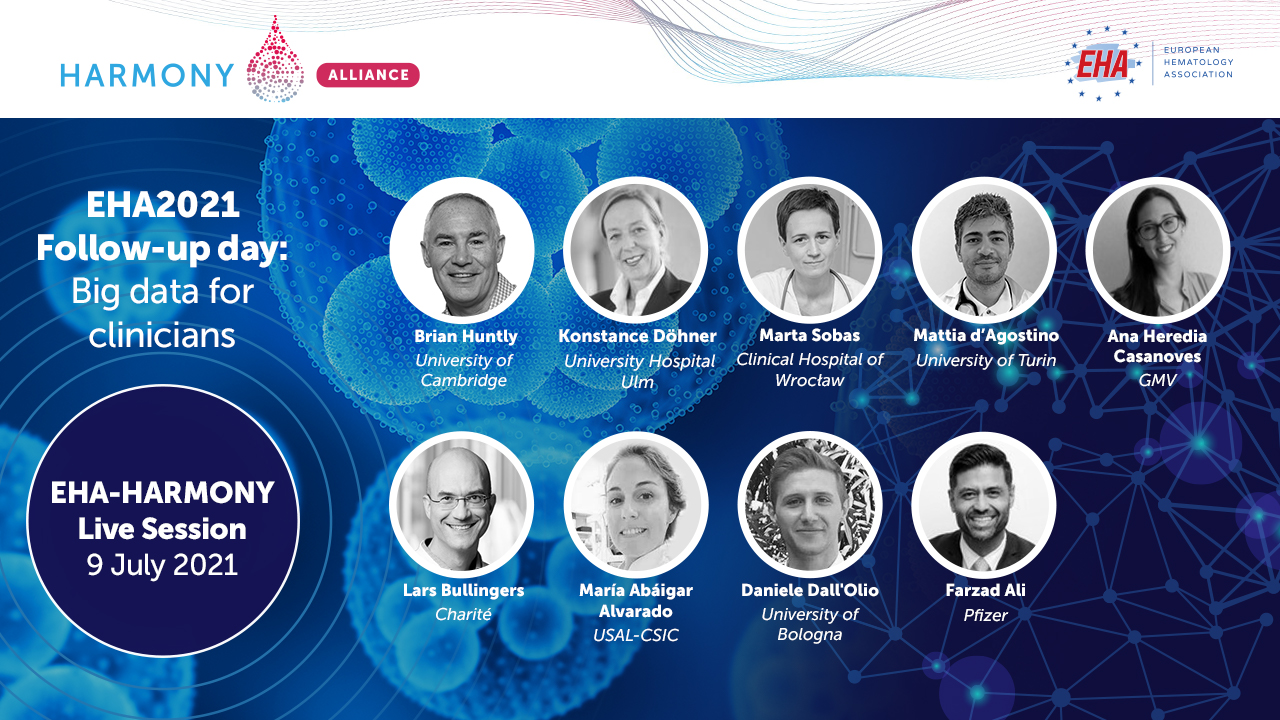 ---
Receive the latest news. Click here to subscribe!