Looking forward to meeting you!
Let's connect at ASH2019, the 61st Annual Meeting of the American Society of Hematology in Orlando, USA. ASH2019 will take place in Orlando, Florida, USA from 7-10 December 2019. This 61st American Society of Hematology Meeting promotes innovation in clinical practice, research, and education, offering opportunities for high-level continued medical education to hematologists worldwide.
Where to connect with us?
Sunday, 8 December 2019, starting at 06:00 AM. At Hyatt Regency Orlando, Room Manatee Spring 1: ELN European Leukemia Breakfast meeting. HARMONY Coordinator Jesús María Hernández Rivas will report on the midterm achievements. View the program >
Saturday, December 7, 2019, 5:30 PM-7:30 PM. During the Conference Program: Oral and Poster Abstracts, Session: 651, Hall B, Level 2 (Orange County Convention Center). HARMONY poster presentation: Myeloma: Biology and Pathophysiology, excluding Therapy: Poster I: Hematology Disease Topics and Pathways: Adult, multiple myeloma, Diseases, Study Population, Plasma Cell Disorders, Clinically relevant, Lymphoid Malignancies
During exhibition hours. At the booth of HARMONY Partner EHA, the European Hematology Association: number 250.
---
Learn more already about the HARMONY Abstract accepted by the American Society of Hematology:
Validation and Improvement Opportunities of the Revised International Staging System for Multiple Myeloma: An Analysis on Mature Data from European Clinical Trials Within the HARMONY Big Data Platform
Data from different European cooperative groups were collected through the European Myeloma Network (EMN) and registered in a big data platform developed by HARMONY, which is a European public-private partnership focusing on hematologic malignancies with unmet medical needs and providing a legal-ethical framework for international data sharing and analysis. The primary end point of this analysis was overall survival (OS) according to R-ISS. All NDMM patients received immunomodulatory agents (IMiDs) or proteasome inhibitors (PIs) as part of their upfront treatment. Read more and open the abstract >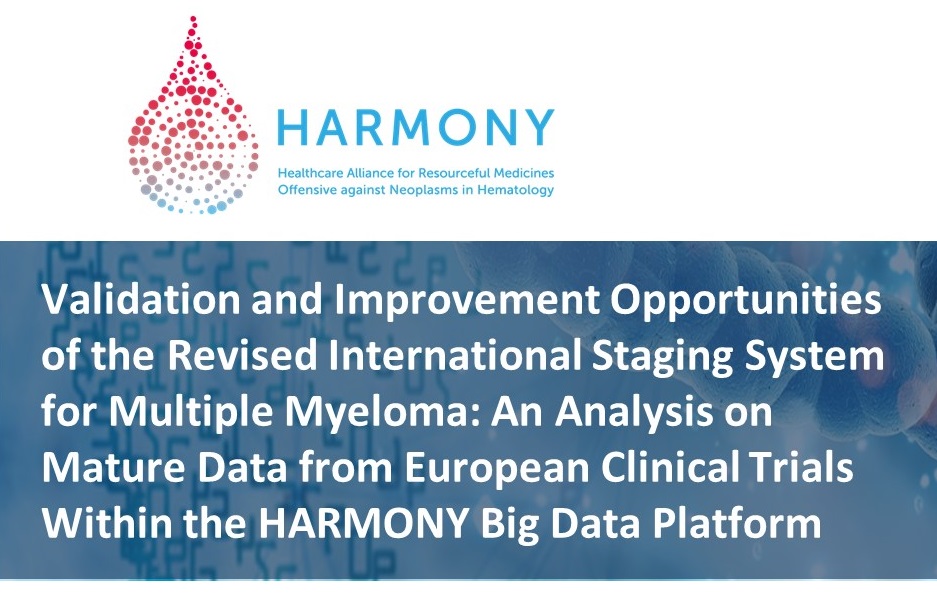 ---
Please let us know if you would like to make a personal appointment with one of the many HARMONY Alliance representatives who will be attending ASH2019 and mail the HARMONY Communication Office.
---
HARMONY focuses on seven hematologic malignancies: Acute lymphoblastic leukemia, Acute Myeloid Leukemia, Chronic Lymphocytic Leukemia, Myelodysplastic Syndromes, Non-Hodgkins Lymphoma, Multiple Myeloma, and Pediatric Hematologic Malignancies. Read more about each of the 7 diseases >
The HARMONY Big Data Platform: Algorithms to transform knowledge into better medicine outcomes for hematology patients. What is it and how does it work? Read more >
The HARMONY Alliance is established in January 2017. Read what has been achieved so far >
---
The 61st American Society of Hematology Meeting promotes innovation in clinical practice, research and education, offering hematologists worldwide opportunities for high level continuing medical education. The Meeting offers you hematology as a comprehensive discipline by way of the various types of sessions and a diverse range of topics. The education and scientific program of the Meeting will highlight state-of-the-art clinical practice, recent advances, new data and views from different stakeholders and international organizations. This event will showcase the very latest cutting-edge research and provide an abundance of opportunities for discussion with the world's leading haematological minds. With an enormous and varied programme, the largest haematology event in Europe is an absolute must-see for any medical professional.
With more than 17,000 members from nearly 100 countries, the American Society of Hematology (ASH) is the world's largest professional society serving both clinicians and scientists around the world who are working to conquer blood diseases.
Visit the ASH 2019 conference website >

---
Receive the latest news. Click here to subscribe!