Experts of the HARMONY Alliance will be presenting at ASH2022. The 64rd Annual Meeting of the American Society for Hematology is organized from 10-13 December 2022 in the New Orleans Morial Convention Center, USA.
This year we are proud to present five abstracts at ASH 2022 that clearly demonstrate the added value of big data in hemotologic malignancy research. We are also honored that we can once again hold a joint session with the ASH Research Collaborative (ASH RC), which this time zooms in on real-world evidence for improved treatments. During the ELN breakfast session, delegates can get up to speed with the latest research developments in the HARMONY Alliance and learn about our future plans. Finally, throughout the conference, visitors can connect with us in the booth of the European Hematology Association (EHA).
---
HARMONY Alliance abstracts:
Oral: Machine Learning Allows the Identification of New Co-Mutational Patterns with Prognostic Implications in NPM1 Mutated AML – Results of the European Harmony Alliance: Alberto Hernández, University Hospital of Salamanca
Oral: Rearrangements Involving 11q23/KMT2A: Mutational Landscape and Prognostic Implications – Results of the Harmony Alliance AML Database: Alberto Hernández, University Hospital of Salamanca
Poster: Long-term follow-up of AML patients treated intensively before the era of targeted agents - A big data analysis from the HARMONY collaboration: Marta Sobas, Medical University of Wroclaw
Poster: Robust validation of the UKALL high hyperdiploid risk profile using individual patient data collected by the HARMONY alliance: Amir Enshaei, University of Newcastle
Poster: Pan-Stakeholder Core Outcome Set (COS) Definition for Hematological Malignancies within the framework of HARMONY and HARMONY PLUS projects: Katharina Lang, Charité Universitätsmedizin Berlin
---
Sessions:
ASH – HARMONY joint session on "Driving Real-World Evidence Generation for Hematologic Malignancy Research" - 12 December 2022 - 16:30-18:00 hrs. - Room 217-219
HARMONY ELN Breakfast Meeting in the Crowne Plaza Hotel - Sunday, 11 December 11, 2022 - starting at 06:00 AM.
---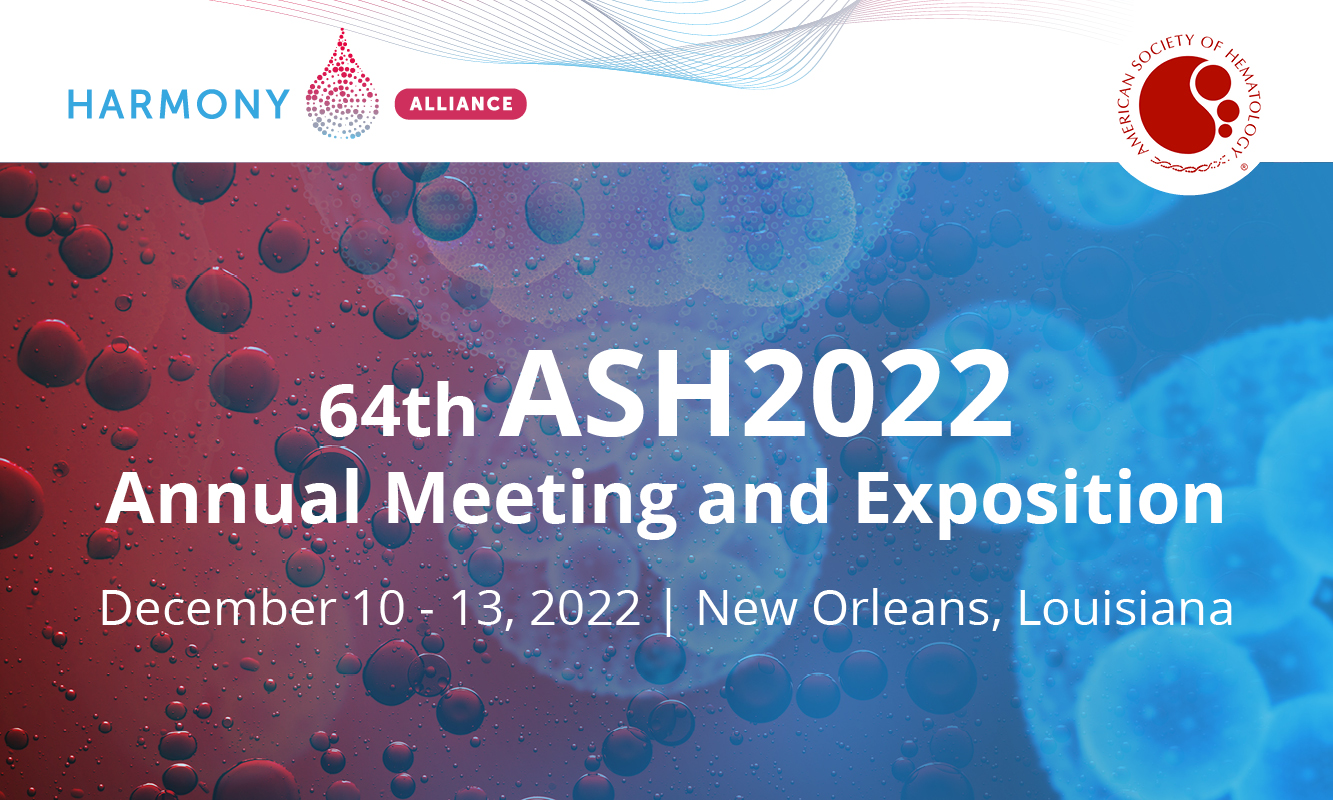 ---
---
#bigdataforbloodcancer: Accelerating Better and Faster Treatment for Patients with Hematologic Malignancies.
The HARMONY Alliance (HARMONY and HARMONY PLUS) is a public-private European Network of Excellence for Big Data in Hematology. Our mission is to unlock and spread valuable knowledge on hematologic malignancies (blood cancers) among a large number of stakeholders, with the goal to harness and mine Big Data to speed up the development of improved treatments for patients and more effective treatment strategies.
HARMONY and HARMONY PLUS are funded through the Innovative Medicines Initiative (IMI), Europe's largest public-private initiative aiming to speed up the development of better and safer medicines for patients. Funding is received from the IMI 2 Joint Undertaking and is listed under grant agreement for HARMONY No. 116026 and grant agreement for HARMONY PLUS No. 945406. This Joint Undertaking receives support from the European Union's Horizon 2020 Research and Innovation Programme and the European Federation of Pharmaceutical Industries and Associations (EFPIA).
HARMONY: 53 Partners and 48 Associated Members, including 9 European Patient Organizations from 18 countries. Budget: 40 million | January 2017- June 2023
HARMONY PLUS: 39 Partners from 10 countries. Budget 12 million. Period: October 2020 – October 2023
---
---
Receive the latest news. Click here to subscribe!