Why we do what we do: the purpose and impact of guidelines" is the title of the G-I-N Conference 2018. GIN stands for Guidelines International Network. The G-I-N Conference will take place in Manchester, United Kingdom, from 11th to 14th September 2018.
Katy Harisson of HARMONY Partner NICE will be presenting a poster about 15 years of hematological malignancies outcome reporting to NICE: data for outcome sets.
---
G-I-N 2018 will provide the opportunity for discussions on a wide range of issues including the benefits of guidelines for patients and how they can support shared decision making, to addressing variations in care. This unique event is an opportunity for all those who work with guidelines in health and care to come together; from development and methodology through to implementation and evaluation.
Relevant links:
---
Click on the image to download the HARMONY Poster.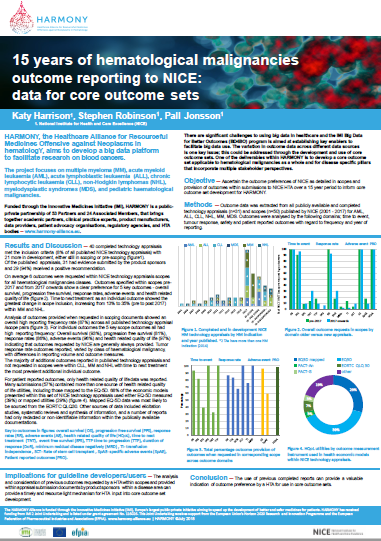 ---
Receive the latest news. Click here to subscribe!