Challenge
Although the hypometholating agent acazitidine is considered one of the current standard-of-care (SOC) therapies for higher-risk myelodysplastic syndroms (MDS), non-response and relapses are common. Venetoclax is a novel BCL-2 inhibitor in late-stage development for higher-risk MDS in combination with azacitidine which has the potential to improve clinical outcomes. However, to date, only phase I studies of venetoclax plus azacizidine without a comparator arm have been conducted, making it difficult to decipher the additional efficacy benefits of adding venetoclax to azacitidine. Historical data on a real-world cohort of patients treated with azacitidine monotherapy are therefore needed to help contexulise results from clinical trials of azacitidine in combination with venetoclax, as well as other novel agents in development for the treatment of higher-risk MDS.
---
Project Partnership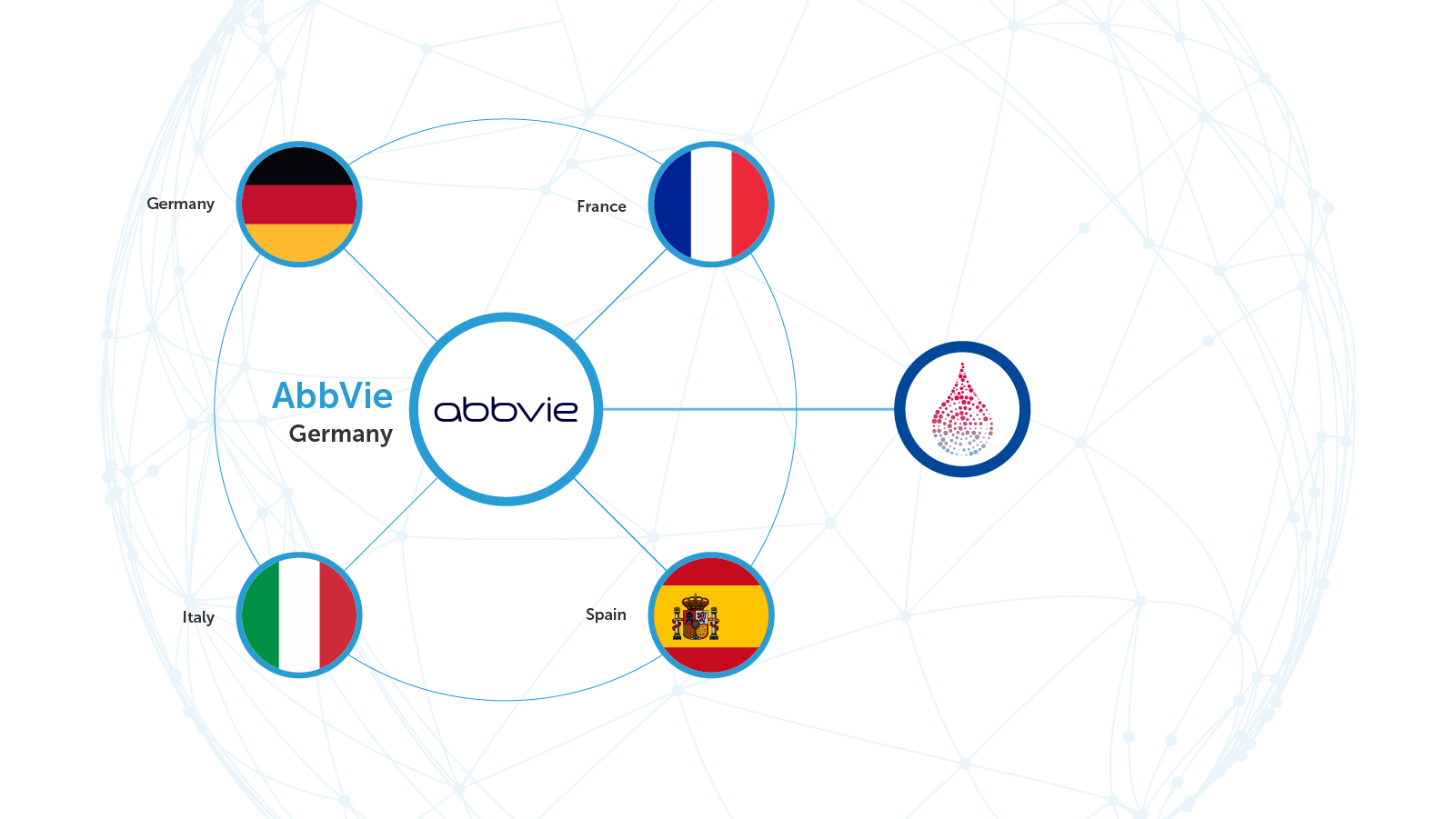 ---
Project Leadership
Steve Kye, AbbVie Clinical Development.
Wendy Cheng, AbbVie Health Economics and Outcomes Research
Ying Zhou, AbbVie Statistics
---
Impact
To create a 'real-world' historical control arm of higher-risk MDS patients treated with azacitidine monotherapy that can be used to contextualize clinical trial results in this space.
To better understand the clinical efficacy benefits of adding venetoclax to azacitidine as combination therapy for higher-risk MDS.
---
Project Summary
MDS describes a group of disorders that affect haematopoietic stem cells, the building blocks of all blood cells. In patients with MDS, blood cell production is ineffective, resulting in low levels of red blood cells, neutrophils and platelets with associated symptoms such as fatigue, increased infection risk, bruising and bleeding. Higher-risk MDS patients have particularly severe disease and poor survival outcomes, with median survival time ranging from 0.4 to 3 years. Azacitidine is one of the SOC hypomethylating agents used to treat MDS but has a non-response/failure rate of approximately 60%. Furthermore, the majority of patients who do respond to acazitidine will lose their response after 2 years.
To meet the significant unmet need that exists in this therapeutic space, novel agents are undergoing active clinical development including the BCL-2 inhibitor venetoclax. Venetoclax has been evaluated in combination with azacitidine in the phase 1b dose-escalation study M15-531 (NCT02942290) in treatment-naïve higher-risk MDS patients.
This project will harness the power of the HARMONY BigData platform to identify a real-world cohort of higher-risk MDS patients treated with azacitidine monotherapy. Clinical outcomes from these patients can then be compared to those treated with venetoclax/azacitidine combination therapy in the M15-531 trial - thereby allowing researchers to determine the 'extra' efficacy afforded by venetoclax.
In total, the study will evaluate data on over 7.000 European MDS cases currently included in (or soon to be added to) the HARMONY platform. The key objective is to use the same inclusion criteria applied to the M15-531 trial to identify a real-world cohort of patients treated with azacitidine monotherapy. Patients of interest will be those with higher-risk MDS defined by an International Prognostic Symptom Score (IPSS) ≥1 or a revised IPSS (IRPSS-R) score >3. The study will use propensity matching methodology to ensure the observational control arm closely mimics the characteristics of patients enrolled in the M15-531 trial. Direct patient-level comparison of the effiacy data will then be carried out between study M15-531 and the trial-matched real-world cohort.

As the HARMONY BigData Platform represents the largest MDS registry in Europe, data from this study will provide a robust measure of the comparative efficacy of venetoclax plus azacitidine versus acazitidine alone. Results will also be submitted to regulators, helping to support approval of innovative therapies such as venetoclax for higher-risk MDS. Creation of a real-world reference group of historical control patients also prove a valuable tool for future efficacy evaluations and will help to contexualise results of clinical studies in higher-risk MDS. Utimately the aim is to generate data that can guide clinicians in choosing the right treatment for their higher-risk MDS patients, thereby optimising clinical outcomes.
---