The HARMONY BigData Platform offers a very large data lake and state-of-the-art Big Data analytic services.
The anonymous data at the Big Data Platform, donated by our Partners and Associated Members, is collected securely following all legal and ethical requirements, harmonized and then analyzed. Here emerge various data sets from different data providers – pharma, biobanks, hospitals, interventional, and non-interventional trials.
---
The HARMONY BigData Platform is guided by one goal: to accelerate the development of more effective treatments for people with blood cancer. Already over 120 organizations from 19 countries joined our mission to improve the treatment and quality of care for patients with Hematologic Malignancies. Approx. 156.000 patients datasets have already been identified by April 2023, to help algorithms in search of new knowledge. It's one of the most significant international projects of this kind.
---
Check the HARMONY Alliance Databarometer here, data numbers by country and by HMs >
We would look forward to explaining more about our unique collaboration, the Big Data Platform and data services, contact us>
---
The HARMONY BigData Platform is about thinking big, cooperation, and transparency.
Having the data, our researchers and data scientists can focus on finding answers to four questions:
· How can we diagnose patients faster and with greater precision?
· What are the best practices that could help doctors in making better treatment decisions?
· How can we tackle the unmet needs of patients?
· What is the best way to make progress in new drug development?
For the first time in the history of humankind, we can tackle these issues using advanced data analysis methods based on Artificial Intelligence and machine learning.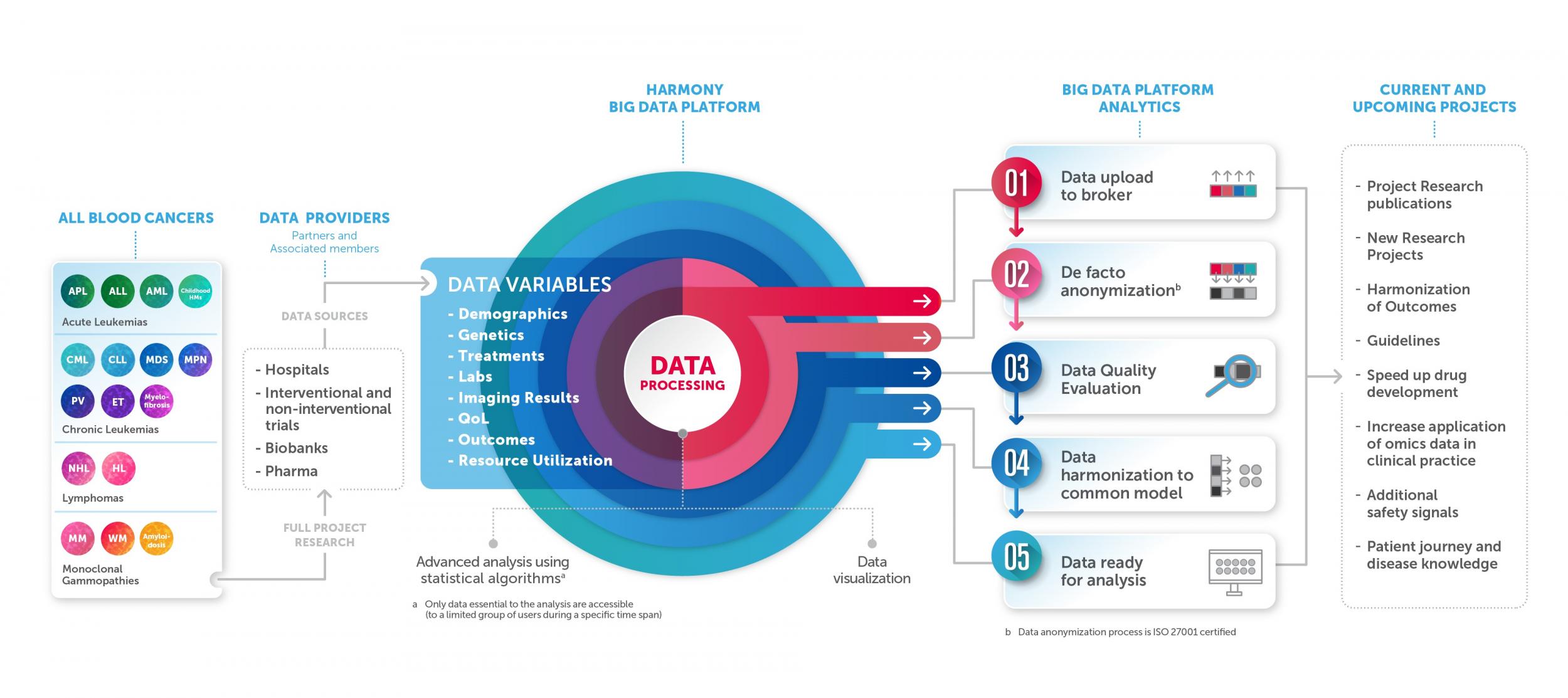 Click here to enlarge the infographic >
---
HARMONY Projects address specific research questions.
Relevant outcomes for patients and caregivers are defined for each Hematologic Malignancy.
View the HARMONY Research Projects to learn more about the challenge, partnership, project lead, envisioned impact.
Read our #bigdataforbloodcancer blogs about data analytics and data processing.