The #BigDataforBloodCancer Awareness Campaign is powered by the HARMONY Alliance in collaboration with the European Hematology Association (EHA).
---

---
#ThisIsBloodCancer
---
Selecting the best treatment for individual blood cancer patients
Using the power of Big Data to improve the treatment of blood cancers. That is our mission. We have developed the HARMONY Alliance Big Data Platform, which contains anonymized data sets from tens of thousands of patients with blood cancer. These data sets have been donated by hospitals, research institutes, pharmaceutical companies, and other organizations located in almost 40 countries in Europe and beyond. Scientists and doctors, our Partners and Associated Members are using the Big Data Platform to develop more personalized treatments for blood cancer patients. We have identified more than 160,000 patient data sets from 120 institutions across Europe, have a look at our data barometer >
---
---
Providing insights into the biology of blood cancers
In the past seven years, HARMONY Alliance research teams have answered critical research questions about blood cancers. Examples of questions that we have addressed in 2022 and 2023 are:
How can we improve the staging system that oncologists use to determine the prognosis of patients with newly diagnosed MM?
How do combinations of genetic aberrations relate to the prognosis of patients with subtypes of AML?
In which patients with MDS can treatment with lenalidomide be discontinued safely?
What is the prognosis of adults with relapsed/refractory ALL after hematopoietic stem cell transplantation?
Which factors are associated with long-term survival in patients APL?
Which factors predispose patients with CLL to an increased risk of developing other types of cancer?
Would you like to read more about these data-driven scientific results? Check out the press releases at our news page >
---
We have developed methods that can assist doctors. Tools to decide which patients should undergo intensive therapy and which can safely receive a milder treatment.
---
Listen to Natacha Bolanos of the Lymphoma Coalition
---
Listen to Jan Geissler of LeukaNet and CML Advocates Network
---
Improving the clinical management of blood cancers
The HARMONY Alliance unites hematology experts and brings together patients, doctors, and scientists, as well as experts from pharmaceutical companies, regulatory agencies, and health technology assessment agencies. Examples of our multi-stakeholder projects:
Our Core Outcome Sets for blood cancers can be used to increase consistency in future clinical research. This will allow for the results to be compared and combined. That is the basis for future improvements in patient management.
We have analyzed methods that are currently used to evaluate the clinical value of novel therapies for blood cancers. We have concluded that these methods make insufficient use of routine care data and patient-reported outcomes.
---
Sharing anonymized data in a secure way, for research purposes, is like a new form of blood donation in the era of digitalization and Big Data. In result, it has the power to save human lives
---
Who we are we
The HARMONY Alliance is a European Public-Private Partnership. We are funded by the Innovative Health Initiative (European Commission). Our partners are hospitals, research institutes, patient organizations, medical associations, pharmaceutical companies, IT companies, and regulatory/health technology assessment agencies. More than 120 organizations from 19 European countries already share our mission to personalize treatments for blood cancer patients.
Blood cancers are we studying
We study all types of blood cancer, including Acute Lymphoblastic Leukemia (ALL), Acute Myeloid Leukemia (AML), Chronic Lymphocytic Leukemia (CLL), Multiple Myeloma (MM), Myelodysplastic Syndromes (MDS), Non-Hodgkin Lymphoma (NHL), Pediatric Hematologic Malignancies, Myeloproliferative (MPN) disorders, and Chronic Myeloid Leukemia (CML).
---
Listen to Amir Enshaei, of Newcastle University
---
Patients involved
European patient organizations form the HARMONY Alliance Patient Cluster: Acute Leukemia Advocates Network (ALAN), CLL Advocates Network, CML Advocates Network, ChildhoodCancer/CCI Europe, Lymphoma Coalition, MDS Alliance, Myeloma Patients Europe and MPN Advocates Network. Our Patient Cluster representatives and their patient communities are involved in defining outcomes, designing research projects, and informing patients.
---
Blood Cancer Awareness Month 2023 and more Awareness Days
We are standing by patients with blood cancer and their families. Data-driven science will increase treatment efficacy, decrease adverse effects, prolong survival, and improve patients' quality of life. The theme for Blood Cancer Awareness Month 2023 is #ThisIsBloodCancer. Despite more than a million people across the globe experiencing the pain of a blood cancer diagnosis every year, awareness of the disease is still incredibly low.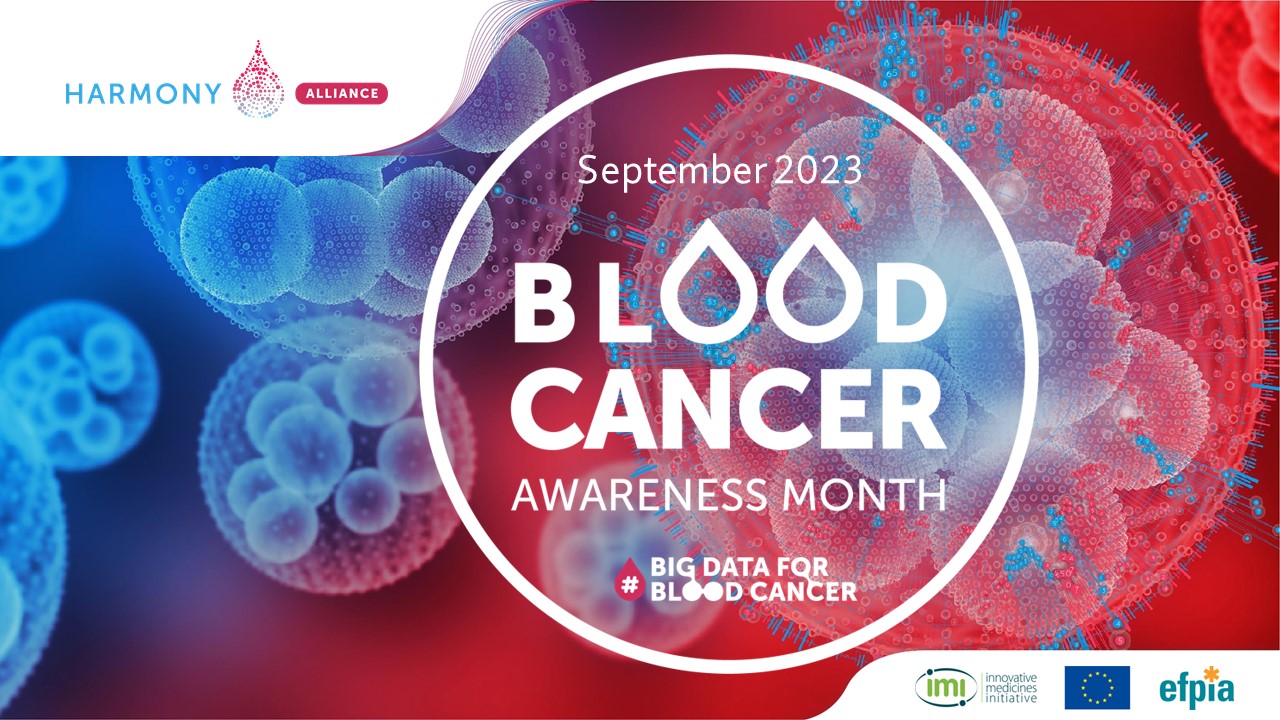 ---
With our communication and dissemination activities, we hope we will make a meaningful contribution. We are supporting the individual 2023 awareness days in our #BigDataforBloodCancer awareness campaign:
1-30 September: Blood Cancer Awareness Month (#BloodCancerAwarenessMonth #ThisIsBloodCancer)
1 September: World CLL Day (#WCLLD23 #WithTeamCLL) (CLL Advocates network/@CLLAdvocates)
4 September: World Leukemia Day (WLD23 #WorldLeukemiaDay)
14 September: MPN Awareness Day (#MPN2023 #MakeSenseOfMPN) (

MPN Advocates Network/

@MPNAdvocates

)
15 September: World Lymphoma Awareness Day (#WLAD2023) (

Lymphoma Coalition/@KnowYourNodes)

20 September: ALL Awareness Day (#MyALLmystory #WorldALLDay #KnowALL) (

Acute Leukemia Advocates Network (ALAN)/@AcuteLeuk

)
22 September: CML Awareness Day (#WCMLD23 #CureCML) (

CML Advocates Network - @CMLnet

)
27 September: European Myeloma Day (#EuropeanMyelomaDay #Myeloma) (

Myeloma Patients Europe/@MyelomaEurope

)
30 September:

Big Data for Blood Cancer Awareness Day

25 October: MDS World Awareness Day – to follow
---
Big Data for Blood Cancer Awareness Day | 30 September 2023
During Blood Cancer Awareness Month and at the 3rd Big Data for Blood Cancer Awareness Day - 30 September 2023 - we are taking the opportunity to connect with the various blood cancer awareness campaigns on social media. A valuable moment to explain how collecting #patient data can improve the treatment of #bloodcancer.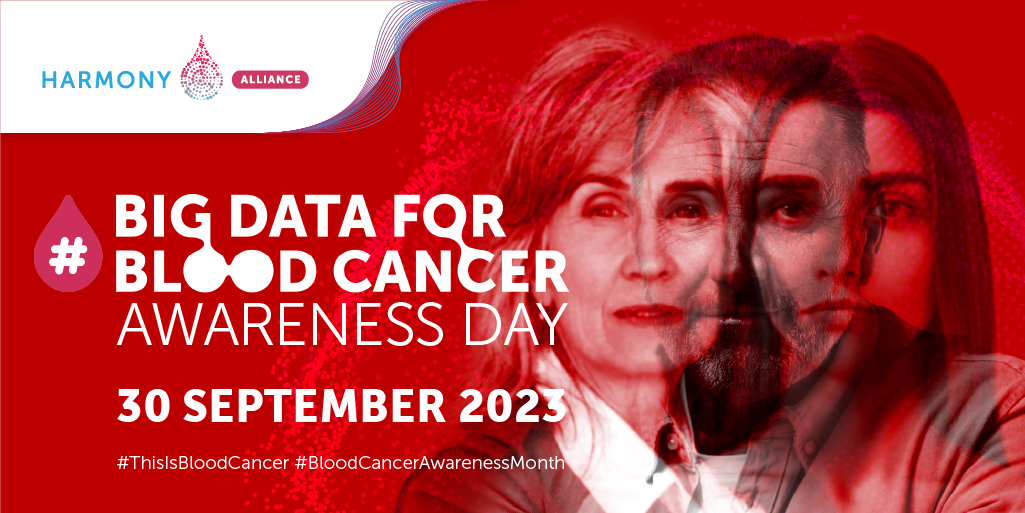 ---
Listen to our valued HARMONY Alliance experts
---
Find us and follow us
Please share our #BigDataforBloodCancer messages, thank you!!
---

---