HARMONY will be presenting at the 62nd Annual Meeting of the American Society of Hematology (ASH) from December 5–8, 2020.
---
Two HARMONY abstracts have been accepted:
Harmony Alliance Provides Novel Insights into Acute Myeloid Leukemia Based on a Pan-European NGS Data Collection (abstract 1077 - Bullinger et al)
A New Risk Stratification Model (R2-ISS) in Newly Diagnosed Multiple Myeloma: Analysis of Mature Data from 7,077 Patients Collected By European Myeloma Network within Harmony Big Data Platform (abstract 1329 - D'Agostino et al)
---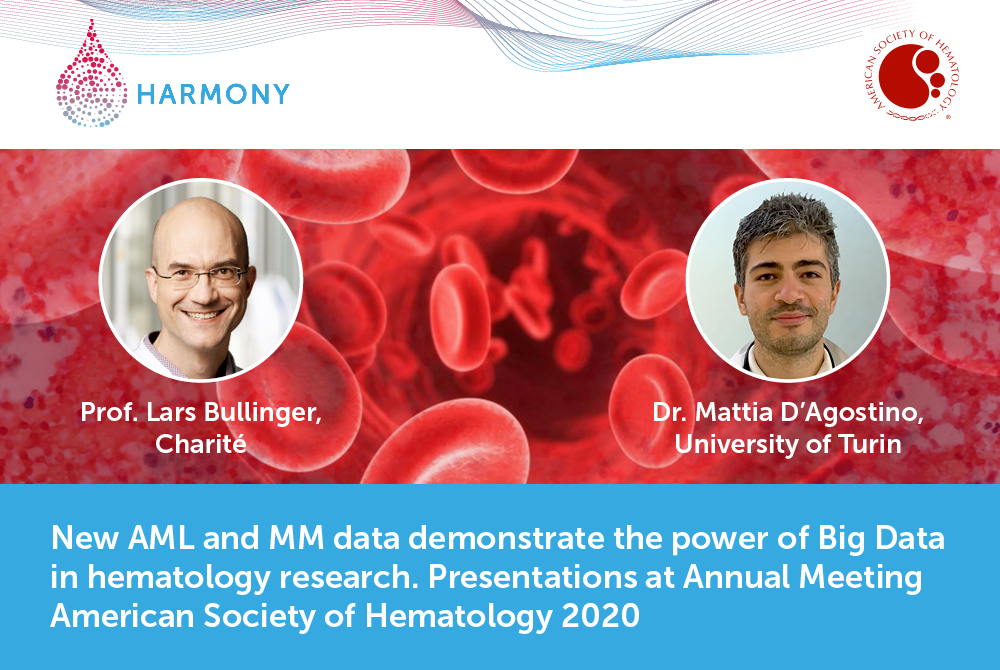 ---
Currently under embargo and soon to be published: HARMONY Press Release: New data from HARMONY demonstrate the power of Big Data analytics to inform personalized medicine in blood cancer >
Read more and watch videos- soon to be published >
---
The ASH Annual Meetings provide a unique opportunity for hematology professionals to exchange knowledge and expertise on a wide range of topics, hear the latest scientific discoveries in the field of hematology, and explore strategies to improve clinical practice and patient outcomes. Click here to visit the official ASH congress website.
---
Read about HARMONY's involvement in last year's ASH meeting (December 2019).
See what other meetings HARMONY is holding and attending by visiting our meetings page.
Become involved with HARMONY today! Contact us to find out how you can participate in ongoing and future research initiatives.
---
Receive the latest news. Click here to subscribe!