HARMONY Partner NICE, National Institute for Health and Care Excellence, is presenting a scientific poster at ISPOR Europe 2020, the Virtual Annual Meeting of the International Society for Pharmacoeconomics and Outcomes Research. ISPOR2020 is organized from the 16th until the 19th of November 2020.
---
Regulatory agencies and health technology assessment (HTA) bodies require robust evidence to show that a drug treatment is both effective and safe. In the case of rare diseases, it may be difficult for researchers to generate sufficient evidence, especially on how effective the treatment is compared with other available treatments. The lack of evidence may hinder market access and the subsequent reimbursement of treatments for these conditions, and slow down or even block patient access to novel treatments. HARMONY researchers have now mapped evidence uncertainties that have been observed in past regulatory and HTA assessments, with the aim to help researchers to develop appropriate mitigation strategies for new treatments for Hematological Malignancies.
A mind map developed by the HARMONY Alliance visualizes uncertainties in clinical evidence that may impact approval of innovative drugs for Hematologic Malignancies. The map can help to develop strategies that could moderate the impact of these uncertainties and accelerate patient access to novel treatments.
This mind map will be presented as an iPoster at ISPOR2020 by Diana O'Rourke and K.L. Harrison from HARMONY Partner NICE (National Institute for Health and Care Excellence), United Kingdom.
---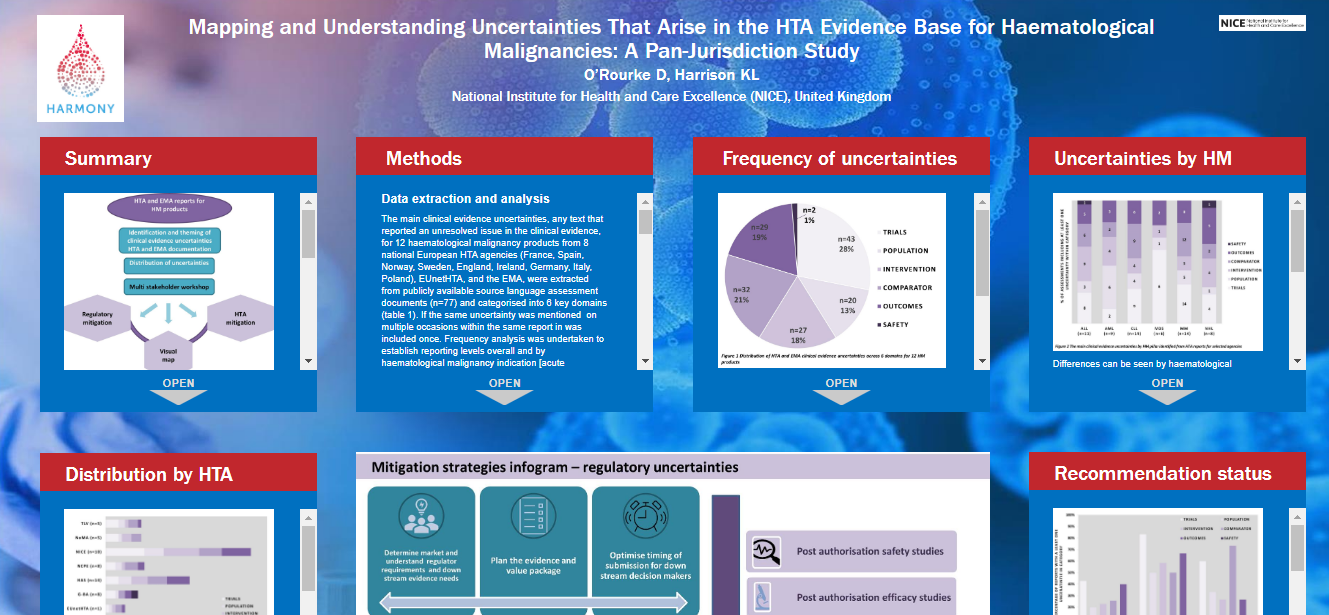 ---
Receive the latest news. Click here to subscribe!