The HARMONY Alliance is looking forward to participating in the 23rd Annual Congress of the European Hematology Association (EHA23), which is scheduled from June 14-17, 2018.
We are looking forward to meeting many congress attendees and discussing the impact big data will have on health and in particular on hematology. This is our plan:
Discuss with you: We have organized two HARMONY sessions during the advocacy track on Saturday, June 16th. We are planing to report on all the achievements we have made this year, and help you understand the details of becoming a HARMONY Associated Member.
Venue: Stockholm International Fairs - Stockholmsmässan, Mässvägen 1, 12580 Älvsjö, Sweden
---
Big Data (analytics) to enable better and faster treatment
for Patients with Hematologic Malignancies!
---
HARMONY participation in EHA23? A day by day overview of our activities
____
Friday, 15th June: Stay tuned for our press update.
____
Saturday, 16th June: You are welcome to join us in our interactive session, from 14:45 to 16:15 hrs in Room K2.
Theme: 'HARMONY: Ready for Collecting Data and Producing Outcomes!'
____
Saturday, 16th June: You are welcome to participate in our partnering session, from 16:15 to 17:15 in Room K11.
Theme: 'Feeding the HARMONY Platform: Guidelines for Data Providers'
____
We invite you to meet us at our exhibition booth #1284 throughout the whole congress.
____
---
It's all about data > Big Data. What impact will big data have on health and in particular on hematology?
Your Big Data is crucial! If you are a data custodian (Co-operative Working Group, Hospital, Academic Institution, or any other organization) you are kindly invited to join the HARMONY Alliance as an Associated Member. Please send us an email expressing your interest and we will guide you through the next steps. If you are interested in contributing to HARMONY in some form other than providing data, contact us to explore other possibilities to join the HARMONY Alliance.
---
---
The 23rd Annual Congress of EHA will offer a program covering every subspecialty in hematology, as well as network opportunities with experts from all over the globe. The educational and scientific program will highlight state-of-the-art clinical practice, the latest findings in hematology research and many more interesting sessions. The congress also provides satellite programs, Updates-in-Hematology and an exhibition organized by pharmaceutical companies.
---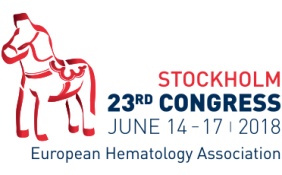 ---
The European Hematology Association is a HARMONY Partner.
Never participated in the Annual Congress of EHA? It is a flagship meeting held in a major European city every June—a significant meeting place for hematologists from every area of specialization with over 11,000 participants. View the impression of the previous congress in Madrid, Spain:
---
Receive the latest news. Click here to subscribe!