HARMONY presents at EAPM EU Presidency conference 2021
---
EAPM is the abbreviation for 'European Alliance for Personalised Medicine' and aims to improve patient care by accelerating the development, delivery and uptake of personalised medicine and earlier diagnostics, through consensus. The theme of the EAPM Bridging Presidency conference this year - organized during the auspices of the Slovenia Presidency of the EU - was: Innovation, Public Trust and Evidence: Generating Alignment to facilitate personalized Innovation in Healthcare. High-level speakers and attendees were from a wide range of stakeholder groups including patients, healthcare professionals, academics, industry representatives, politicians and legislators, the media and more.
The EAMP conference took place on 1 July 2021 and was divided into 4 segments: Session 1: Generating alignment in the regulation of Personalized Medicine: RWE and Citizen Trust; Session 2: Beating Prostate Cancer and Lung Cancer - The Role of the EU Beating Cancer: Updating EU Council Conclusions on Screening; Session 3: Health Literacy - Understanding Ownership and Privacy of Genetic Data; Session 4: Securing patient Access to Advanced Molecular Diagnostics
---
Blood cancers have a profound impact on patients and their loved ones, and they place a substantial burden on society at large. In 2012, these diseases have cost the European countries €12 billion.
The HARMONY Alliance actively engages with policy makers to reduce the burden of blood cancers on both patients and society by participating in expert meetings and drafting policy recommendations.
---
Professor Lars Bullinger of Charité Berlin represented the HARMONY Alliance at the EAPM Presidency Conference in Session 4: Securing patient Access to Advanced Molecular Diagnostics.
---

---
Engaging with all relevant stakeholders in the arena of hematology
---
HARMONY Partner Denis Horgan, Executive Director EAPM: "Session 4 is designed to engage with all relevant stakeholders in the arena of hematology and, obviously, the 2nd Bridging Presidency is the ideal place to do this. Blood disorders, malignant or non-malignant hematological disorders, are not only a burden for patients, but also for society as a whole. We need to urgently step up how Europe tackles this. Policy is important and, by the time of the meeting, the new Presidency of the EU will be ready to start work, Fortunately, many member states and European Politicians are knowledgeable and active in the fields of cancer, translational research and access. Engaging with such Parliamentarians and Member States, such as those championing the treatment of childhood cancers, is something that we need to do down the line, and as highlighted in the HARMONY Policy Paper".
---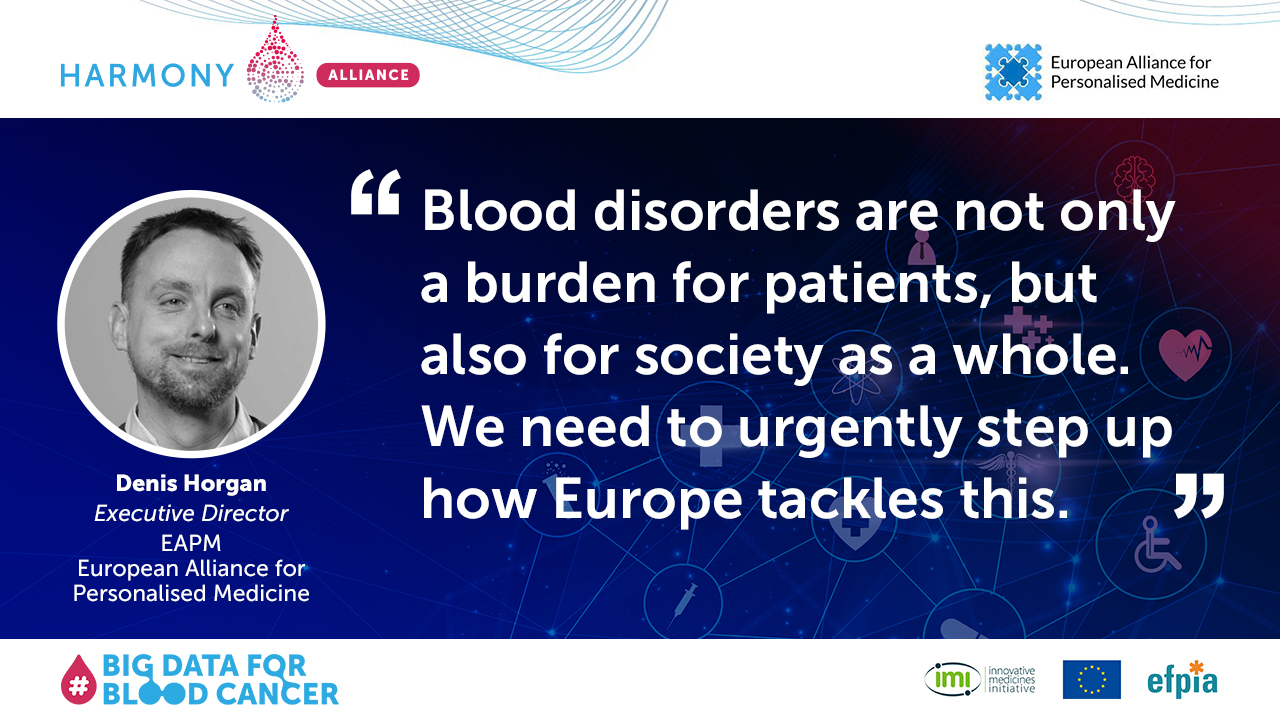 ---
Illustrating the healthcare cost in Europe: Economic burden of malignant blood disorders across Europe: a population-based cost analysis: Malignant blood disorders cost the 31 European countries €12 billion in 2012. Healthcare cost €7·3 billion (62% of total costs), productivity losses cost €3·6 billion (30%), and informal care cost €1 billion (8%). For the EU countries, malignant blood disorders cost €6·8 billion (12%) of the total healthcare expenditure on cancer (€57 billion), with this proportion being second only to breast cancer. In terms of total cancer costs in the EU (€143 billion), malignant blood disorders cost €12 billion (8%)(Source: pubmed.ncbi.nlm.nih.gov/27476787/).
---
Illustrating incidence vs prevalence of blood cancers in the world, per continent: Prevalence refers to proportion of persons who have a condition during a particular time period, whereas incidence refers to the proportion or rate of persons who develop a condition during a particular time period. This graphic presents an estimated number over a period of 1 year including all ages: 2020 (Source: Globocan 2020, link to PDF).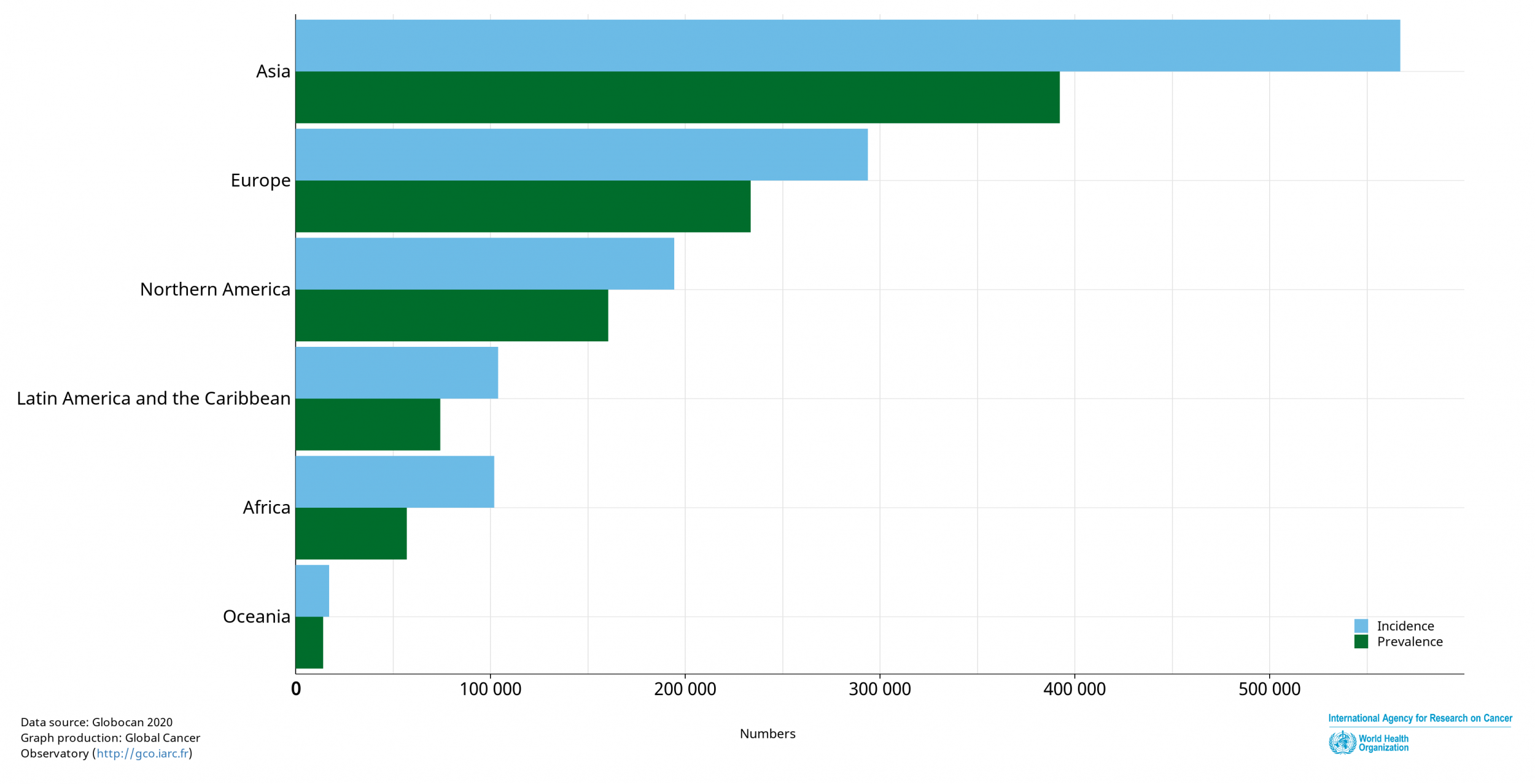 ---
Interested in receiving a copy of the HARMONY Policy Paper? Send an email to Ellen de Waal, HARMONY Communications >
---
We developed recommendations for policy makers and will share them with our community and networks. Find some examples our posts below: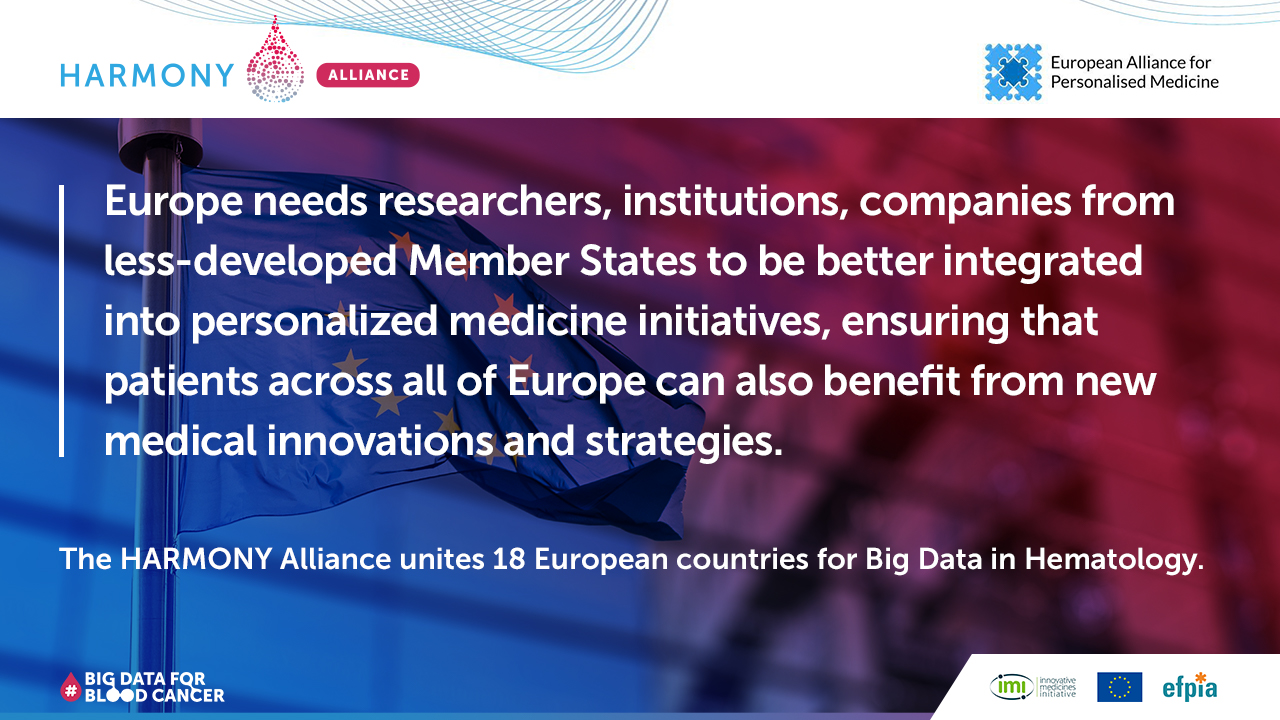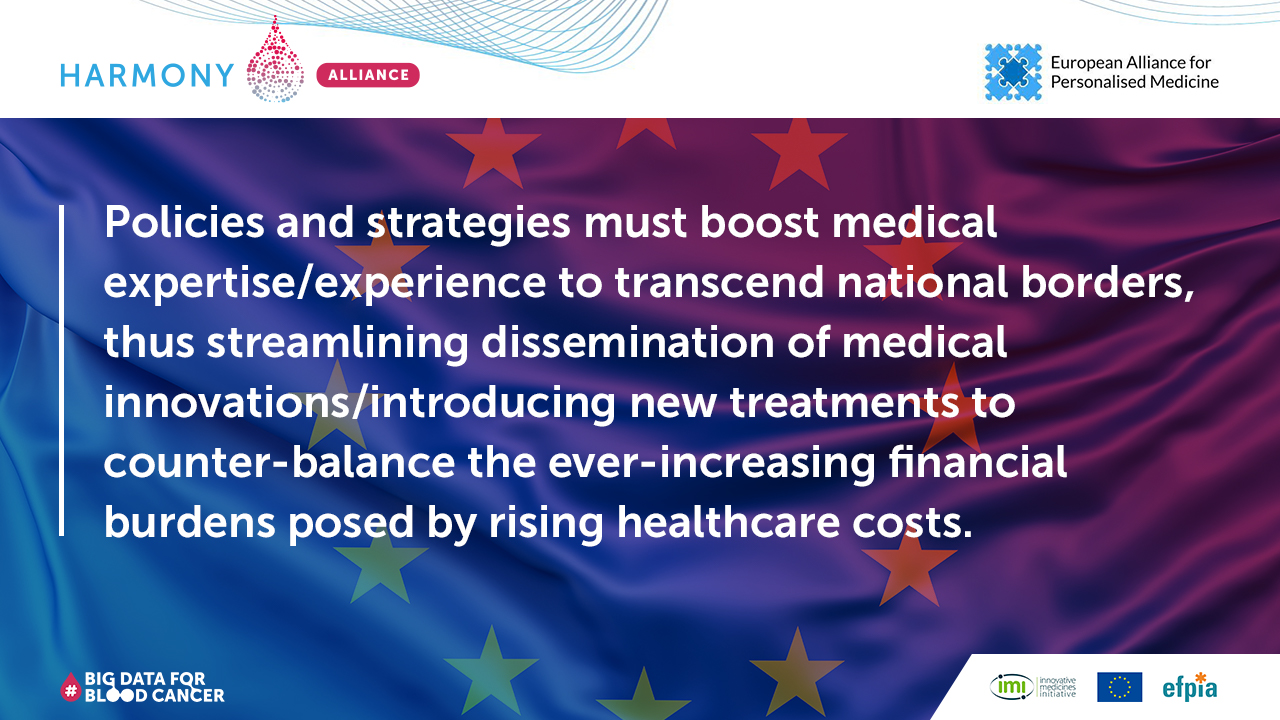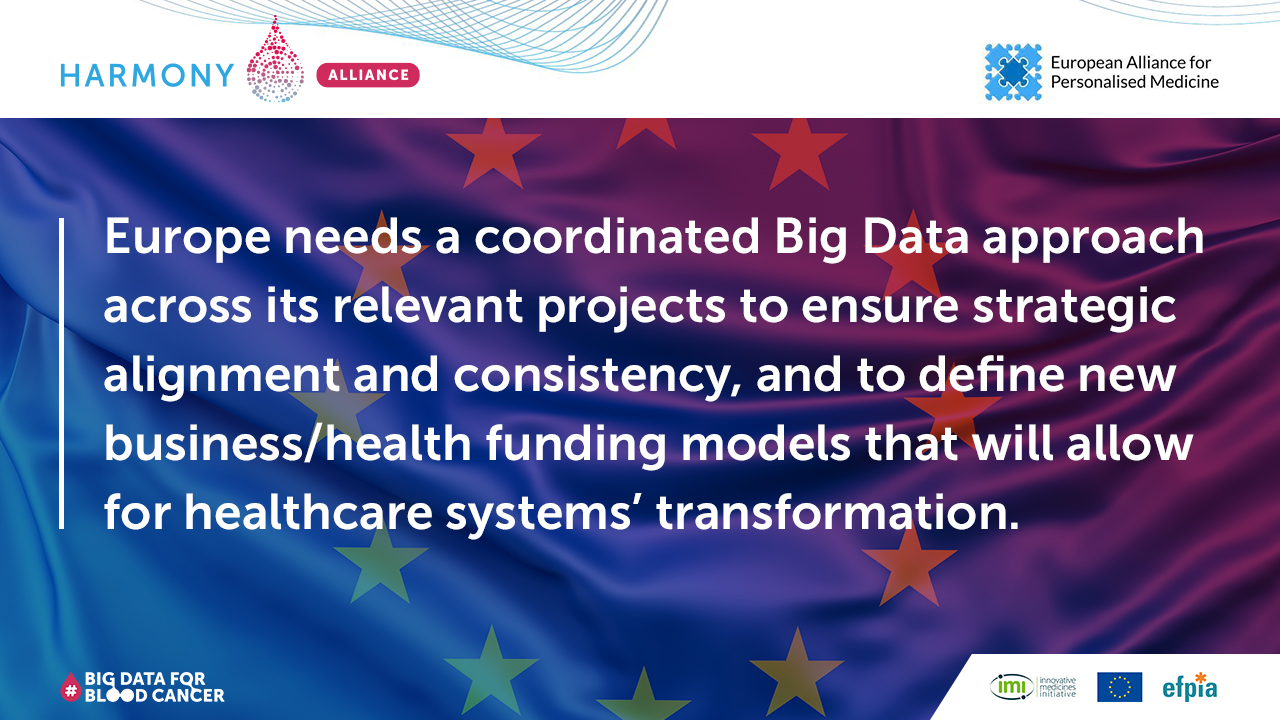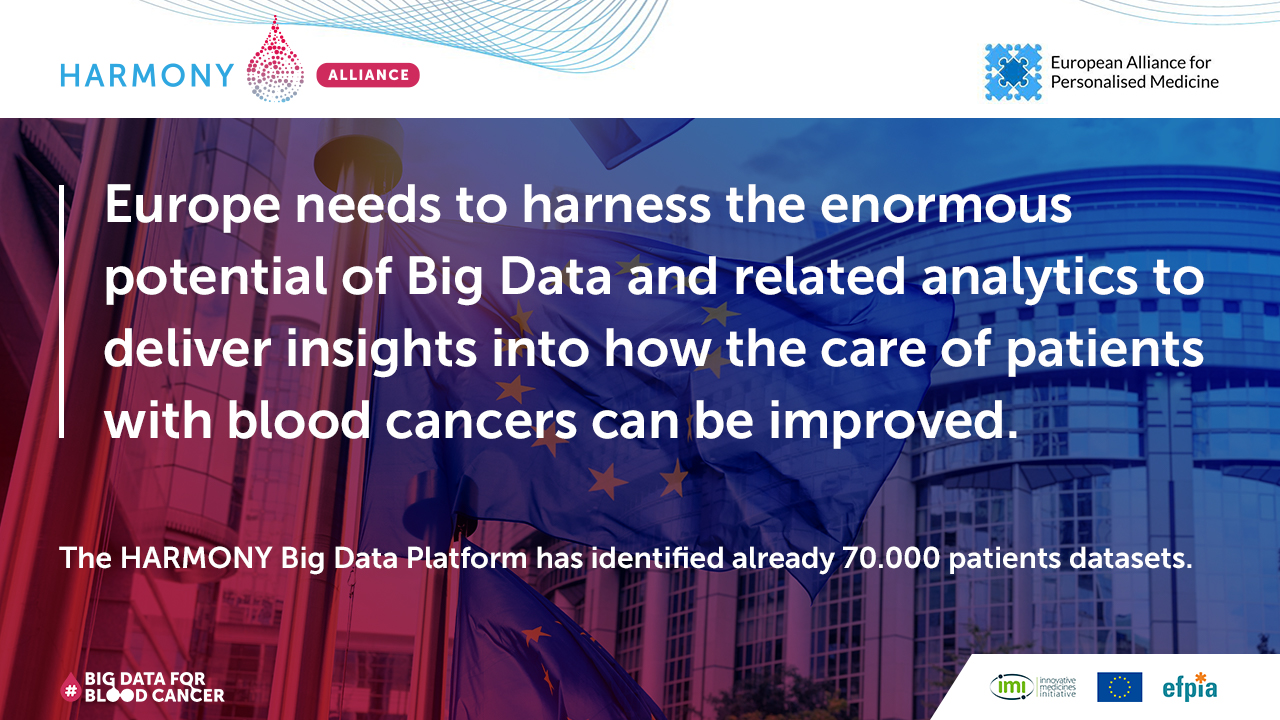 ---
Interested to view all image posts and and all recommentations? Check our Twitter @HARMONYNetEU or email to Ellen de Waal, HARMONY Communications >
---
#BigDataforbloodcancer | Big Data accelerate better and faster treatment for Blood Cancer Patients
The HARMONY Alliance is a European Public–Private Partnership for Big Data in Hematology that is capturing and mining Big Data on Hematologic Malignancies. Both projects of the HARMONY Alliance, HARMONY and HARMONY PLUS, are funded by the Innovatie Medicines Initiative (IMI). HARMONY unites more than 100 organizations from 18 European countries, such as medical associations, hospitals, research institutes, patient organizations, pharmaceutical and IT companies.
HARMONY uses Big Data analytics to accelerate the development of more effective treatments for blood cancer patients. Data are stored in HARMONY's Big Data Platform, which has already identified over 80,000 anonymized patient records, making it one of the largest databases of its kind. Leading research teams are currently using this wealth of information to answer critical questions about Blood Cancers / Hematologic Malignancies that cannot be addressed with other methods. This is the added value HARMONY will bring to precision medicine for patients.
---
More about the HARMONY Alliance: watch our video >
---
Receive the latest news. Click here to subscribe!