HARMONY study maps uncertainties in clinical evidence that may impact market access for novel drugs in Hematologic Malignancies
Market access and reimbursement of novel drugs for Hematologic Malignancies may be impacted by uncertainties in the clinical evidence regarding their efficacy and safety.
HARMONY researchers have developed a mind map that visualizes these uncertainties.
Understanding these uncertainties and their interrelationships is critical to accelerate patient access to innovative treatments.
---
A mind map developed by the HARMONY Alliance visualizes uncertainties in clinical evidence that may impact approval of innovative drugs for Hematologic Malignancies. The map can help to develop strategies that could moderate the impact of these uncertainties and accelerate patient access to novel treatments. It is going to be presented as an iPoster at the Virtual Annual Meeting of the International Society for Pharmacoeconomics and Outcomes Research (ISPOR, 16-19 November 2020).
View the iposter presented at ISPOR2020 here >
---
Regulatory agencies and health technology assessment (HTA) bodies require robust evidence to show that a drug treatment is both effective and safe. In the case of rare diseases, it may be difficult for researchers to generate sufficient evidence, especially on how effective the treatment is compared with other available treatments. The lack of evidence may hinder market access and the subsequent reimbursement of treatments for these conditions, and slow down or even block patient access to novel treatments. HARMONY researchers have now mapped evidence uncertainties that have been observed in past regulatory and HTA assessments, with the aim to help researchers to develop appropriate mitigation strategies for new treatments for Hematological Malignancies.
---
Diana O'Rourke, National Institute for Health and Care Excellence (NICE), United Kingdom: "We are excited to present at ISPOR 2020 the output from our work, where we investigated uncertainties relating to evidence in previous regulatory and HTA assessments for 12 blood cancer treatments. This work included a lively and interactive workshop, where representatives from industry (market access, trialists), regulatory bodies, and HTA agencies themed uncertainties that can affect decision making and highlighted key mitigation strategies."
Katy Harrison, National Institute for Health and Care Excellence (NICE), United Kingdom: "We have developed the mind map as a unique visual representation of uncertainties identified for this selection of blood cancer treatments. Key clusters in the mind map highlight connections between individual uncertainties, with links to underlying causal mechanisms. The map, along with the HTA and regulatory mitigation infograms, can help researchers to recognize how and where uncertainties may arise and define appropriate mitigation strategies."
---
View the iposter presented at ISPOR2020 here >
NICE is HARMONY Partner.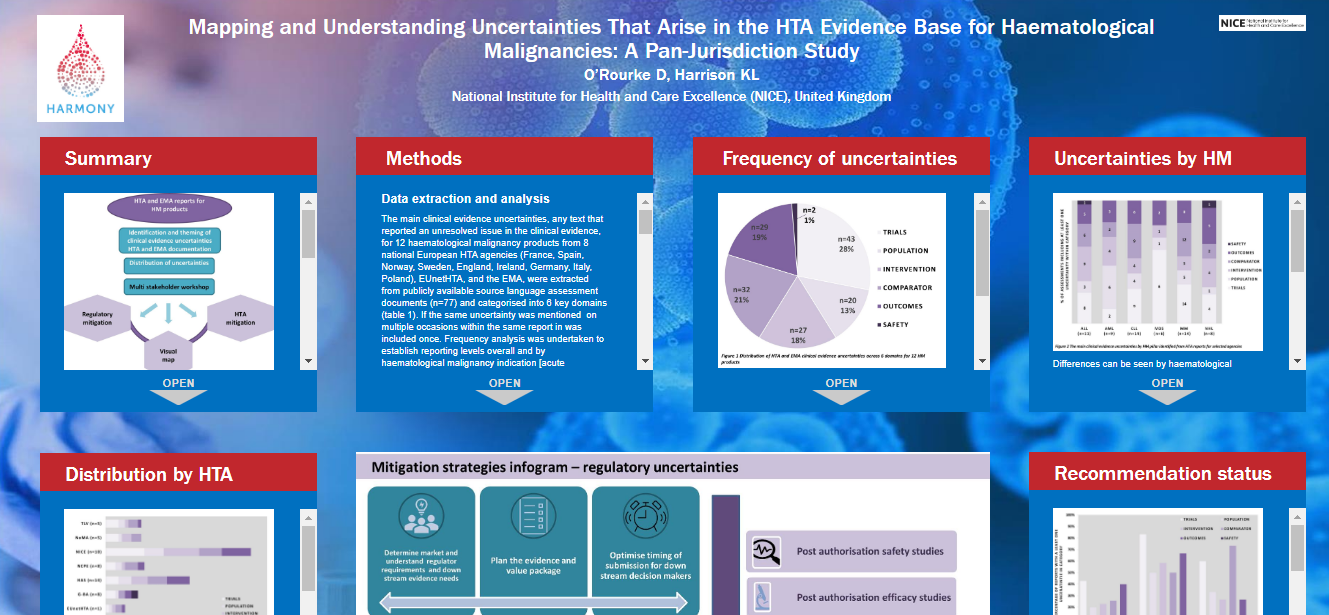 ---
---
HARMONY stakeholders
With more than 90 Partners and Associated Members, the HARMONY Alliance can draw on the expertise from academic institutions, clinical networks, patient advocacy groups, pharmaceutical companies, regulatory agencies, and HTA bodies. Therefore, HARMONY is in a unique position to map the perspectives of various stakeholder groups regarding evidence gaps that may affect decision-making.
---
Receive the latest news. Click here to subscribe!