Which factors predispose patients with chronic lymphocytic leukemia (CLL) to an increased risk of developing other malignancies? The HARMONY CLL research team sheds light on the question.
---
Press Release | Frankfurt, 9 June 2023
---
Patients with chronic lymphocytic leukemia (CLL) have a higher risk of developing other malignancies than the average person. The exact reason for this is unclear. Moreover, it is also unclear if all patients with CLL have the same risk. A study conducted by the European Research Initiative on CLL (ERIC) in the context of the HARMONY Alliance has provided insight into this matter. The research team investigated data from 19,705 European patients diagnosed with CLL. Dr Thomas Chatzikonstantinou (Institute of Applied Biosciences, Centre for Research and Technology Hellas) will present the results at the congress of the European Hematology Association.
Read the HARMONY - #EHA2023 abstract >
---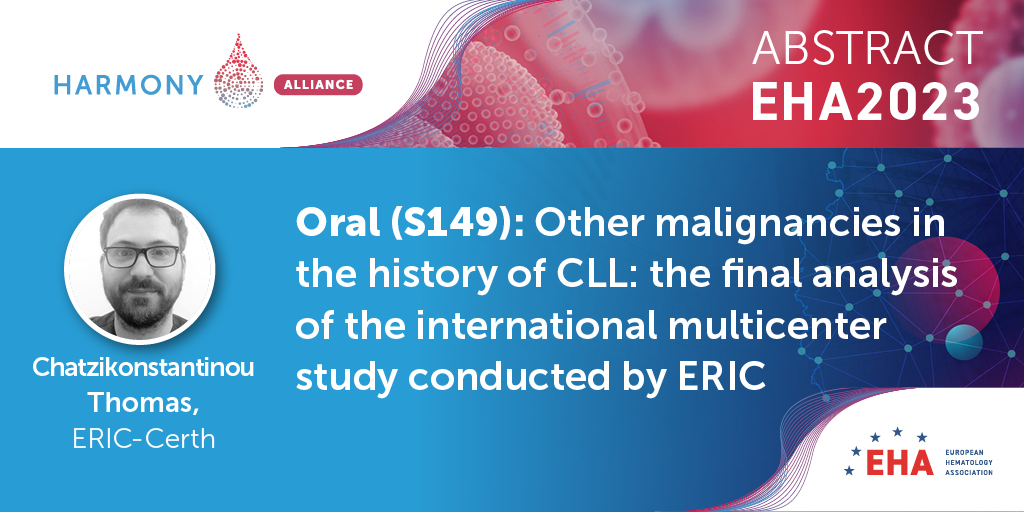 ---
Other malignancies in one out of five CLL patients
Other malignancies occurred in 21% of the investigated CLL patients. In most cases (70.4%), the other malignancies were diagnosed after the diagnosis of CLL. Non-melanoma skin cancers (5%) and prostate cancers (2.7%) were the most frequently observed non-hematological malignancies, followed by colon cancers (1.9%) and breast cancers (1.7%). The most frequently observed hematological malignancies were Richter's transformation (3.2%), myelodysplastic syndrome (MDS, 0.44%), acute myeloid leukemia (AML, 0.21%), and multiple myeloma (MM, 0.19%).
Chatzikonstantinou: "Our findings align with the literature regarding the high risk of other malignancies in patients with CLL compared to the general population. Although we did not perform such comparisons, we found similar frequencies of other malignancies as in the published studies".
---
Survival disadvantage in patients with other malignancies
Patients with another malignancy in addition to CLL had inferior overall survival rates compared to patients with CLL alone (p=0.0078). The worst survival rates were observed in patients with MDS or AML in addition to CLL. Chatzikonstantinou: "These results underline the importance of identifying risk factors for the occurrence of other malignancies in patients with CLL".
---
CLL-directed treatment as a risk factor for developing other malignancies
From a clinical point of view, CLL is very heterogeneous. Some patients have an indolent disease and will never need treatment. Others have a slowly progressing disease and may need treatment several years or decades after diagnosis. Finally, there is a group of patients who need treatment within a few months after diagnosis. The researchers conducted a series of analyses to understand to relationship between CLL-directed treatment and the occurrence of other malignancies.
Key findings were:
Patients who had been treated with the combinations of chemotherapeutic agents fludarabine and cyclophosphamide with or without the monoclonal antibody rituximab (FC+/-R) were more likely to develop MDS or AML than the rest of the patients with CLL.
Non-melanoma skin cancers occurred more frequently in patients who received FC+/-R treatment.
Prostate cancers were more frequently observed in treated than non-treated patients, regardless of the type of treatment received (p=0.021).
Breast cancers were more frequent in untreated patients (p<0.001).
---
Chatzikonstantinou: "Patients treated with FCR appear to have a higher risk of developing MDS or AML. This is especially relevant considering that FCR is still recommended by several organizations (e.g., NCCN, ESMO) as a valid treatment option for a selected group of patients i.e., young patients without adverse-prognostic CLL-associated biological markers. Our results offer an additional reason to prefer novel therapeutic agents even in this group of patients."
"The effect of CLL-directed treatment on non-hematological malignancies differed depending on the type of malignancy. We confirmed the association of non-melanoma skin cancers with CLL treatment, and found that prostate cancers were more frequent in treated patients. However, caution should be exercised in interpreting these results since the closer follow-up of treated patients may have led to detecting more cases of such cancers that would have otherwise been missed, especially considering their generally indolent clinical presentation and slow progression. Finally, breast cancers were more frequent in untreated patients; although this poses interesting questions, we cannot extrapolate on the existing evidence."
---
Gender and genetic constitution as risk factors for developing solid tumors
The researchers conducted multivariate analyses to discover risk factors for developing non-hematological malignancies. They observed that male CLL patients and those with unmutated immunoglobulin heavy variable (IGHV) gene status were at a higher risk (excluding non-melanoma skin cancers). In another series of statistical analyses, the researchers analyzed risk factors for the most frequent non-hematological malignancies (>100 cases) separately. Several statistically significant associations (p<0.05) were found:
Non-melanoma skin cancers occurred more frequently in male patients, patients with an older age at diagnosis.
Colorectal and bladder cancers occurred more frequently in male patients.
Melanoma, lung cancers, and breast cancers occurred more frequently in patients with unmutated IGHV gene status.
Chatzikonstantinou: "Similar to the general population, older age and male gender remain important risk factors for certain non-hematological malignancies. Interestingly, unmutated IGHV genes were linked to certain solid tumors. This finding was confirmed independently for different solid tumors, but further investigation is required before definitive conclusions can be drawn".
---
Conclusions and future research
Paolo Ghia, President of ERIC: "Our study illustrates the burden of other malignancies and their impact on survival in a large collection of non-registry patients with CLL. The strong association between treatment with FCR and the development of AML or MDS is a crucial point to consider when counseling young patients needing treatment, considering that FCR is still mentioned as an option for certain subgroups of young patients with CLL. That said, in the current study, only a minority of patients with CLL were treated exclusively with novel agents. Therefore, ERIC has decided to extend this study and assess the impact of novel therapeutics on the occurrence and outcome of other malignancies".
Lydia Scarfò, member of the ERIC board, investigator participating in the project: "Thanks to the recent availability of novel targeted agents, the vast majority of patients with CLL experience prolonged progression-free and overall survival. It thus becomes crucial that hematologists and patients are well aware of the other risks, besides disease progression, associated with a CLL diagnosis including the risk of developing other malignancies. In most cases, close adherence to screening programs may allow early diagnosis of other malignancies and appropriate management, so patients should be counseled accordingly".
---
HARMONY Big Data Platform
The HARMONY Alliance is a community with over 500 professionals, more than 120 partners/member organizations from 19 European countries, and a patient cluster with 9 European patient organizations. When HARMONY started in 2017, the hematology community was embarking on a journey towards embracing data sharing and recognizing the transformative power of big data. HARMONY set a crucial milestone when this endeavor was only starting. By laying the foundation for future collaborations, advancements, and discoveries that would incorporate state-of-the-art technologies in the field of hematology, HARMONY is making its contribution to improve the understanding and treatment of blood disorders.
Now, just six years later, we have transformed both the sharing and use of data. We have developed the Big Data Platform with a data lake that already contains data from 93,000 patients and has identified an additional 60,000 patient records that will be included in the months to come. All data is protected using a unique anonymization and security process. In more than 30 research projects, groundbreaking research is being carried out with the help of advanced customized data analytic services, including AI modelling.
---
More information
---
Receive the latest news. Click here to subscribe!