Can treatment with lenalidomide be discontinued in patients with myelodysplastic syndrome (MDS)? The HARMONY MDS research team suggests that it is possible in certain patients.
---
Press Release | Frankfurt, 9 June 2023
---
Patients with myelodysplastic syndrome (MDS) with a deletion in the long arm of chromosome 5 may be treated with lenalidomide, an immunomodulatory agent. As optimal duration of lenalidomide therapy has never been formally assessed, patients are advised to continue the treatment indefinitely. However, lenalidomide may result in serious side effects and it could potentially trigger disease progression. Moreover, the treatment costs are high.
The HARMONY MDS research team now suggests that lenalidomide discontinuation is possible in certain patients. Dr Elena Crisà (Candiolo Cancer Institute, Italy) will present the results at the congress of the European Hematology Association, EHA2023.
Read the HARMONY - #EHA2023 abstract >
---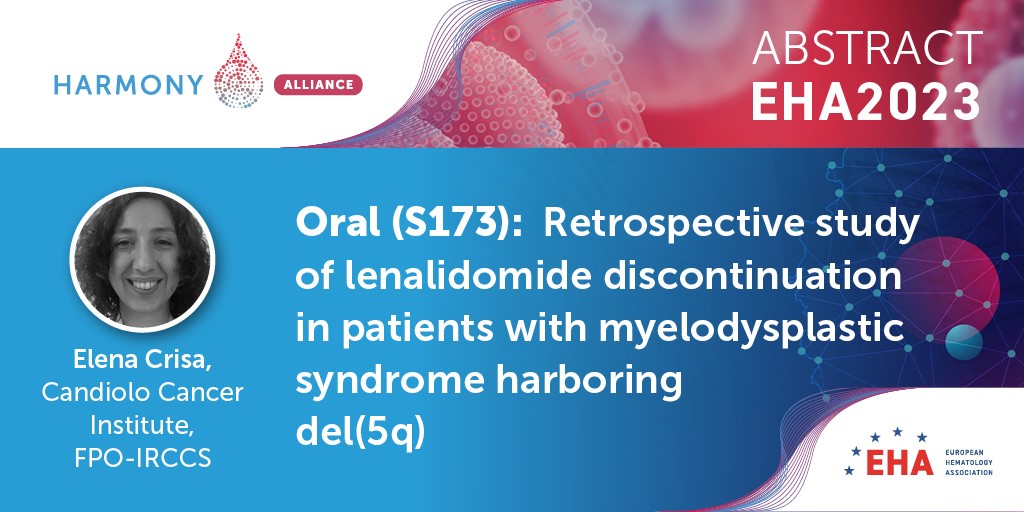 ---
Clinically heterogeneous
MDS shows substantial clinical heterogeneity, with around 70% of patients suffering from 'low risk' MDS with a small risk of disease progression. The other 30% is suffering from 'high risk' MDS, with great risk of progression to acute myeloid leukemia (AML) and short survival. Fit high-risk patients may potentially be cured with allogeneic hematopoietic stem cell transplantation, but this treatment can be applied in less than 15 % of all MDS patients.
Dr Crisà: "MDS are characterized by ineffective hematopoiesis and a lower-than-normal number of peripheral blood cells (cytopenias). In particular a low level of red blood cells (anemia) affects the majority of MDS patients. A deletion in the long arm of chromosome 5 (del(5q)) is one of the most common karyotypic abnormalities reported in de novo MDS, occurring in approximately 10-20% of MDS patients. Anemic patients that are transfusion-dependent and at intermediate or low risk according to IPSS or IPSS-r that present with del(5q) may be treated with lenalidomide, becoming transfusion-independent in 60-70% of cases. In 30-40%, lenalidomide treatment results in a complete cytogenetic response (CCyR), which is a resolution of all chromosomal abnormalities (i.e., a deep clearance of the pathogenetic clone)."
---
Discontinuation is possible
At present, patients achieving RBC-TI and CCyR are advised to continue treatment indefinitely. However, several small retrospective studies have shown that most RBC-TI patients who stopped lenalidomide maintained the response, meaning that they did not require transfusions for prolonged periods. The researchers retrospectively analyzed data from 114 del(5q) MDS patients that discontinued lenalidomide therapy after achieving RBC-TI. The data were derived from the HARMONY Big Data Platform, which contains anonymized and harmonized data from more than 150,000 patients with hematological malignancies (i.e., blood cancers) collected by institutions and companies across Europe. The reason for lenalidomide discontinuation was intolerance (62%), optimal response (28%), patient decision (8%), or clonal evolution with development of TP53 (2%).
Dr Crisà: "Indeed, treatment with lenalidomide is usually well-tolerated but it is associated with possibly serious side effects, the most common being cytopenias and rush, but also increased risk of thromboembolism (i.e., blood clots). Moreover, lenalidomide treatment could potentially trigger disease progression in del(5q) MDS, especially in those with TP53 mutations, because TP53 mutations confer reduced sensitivity to lenalidomide, potentially leading to suppression of wild-type clones and selective expansion of mutant clones."
The results suggest that stopping lenalidomide in responding patients, particularly after at least 12 months of treatment and achievement of CCyR, is possible and may protect patients from the associated toxicities, reducing the economic impact on national healthcare systems and likely improving patients' quality of life. Prospective studies could confirm this promising result.
---
HARMONY Alliance Big Data Platform
The HARMONY Alliance is a community with over 500 professionals, more than 120 partners/member organizations from 19 European countries, and a patient cluster with 9 European patient organizations. When HARMONY started in 2017, the hematology community was embarking on a journey towards embracing data sharing and recognizing the transformative power of big data. HARMONY set a crucial milestone when this endeavor was only starting. By laying the foundation for future collaborations, advancements, and discoveries that would incorporate state-of-the-art technologies in the field of hematology, HARMONY is making its contribution to improve the understanding and treatment of blood disorders.
Now, just six years later, we have transformed both the sharing and use of data. We have developed the Big Data Platform with a data lake that already contains data from 93,000 patients and has identified an additional 60,000 patient records that will be included in the months to come. All data is protected using a unique anonymization and security process. In more than 30 research projects, groundbreaking research is being carried out with the help of advanced customized data analytic services, including AI modelling.
---
More information
---
Receive the latest news. Click here to subscribe!