HARMONY is working on collecting and analyzing big data across seven blood cancers, one of which is acute myeloid leukemia (AML). When used appropriately, Big Data can be a powerful tool for characterizing disease, identifying new treatment targets and optimizing treatment strategies.
HARMONY is collaborating with the European Hematology Association (EHA) to deliver a webinar on the valuable insights that large quantities of harmonized data can provide in AML, and the use of Big Data analytics tools in analyzing these data.
---
Date: July 16, 2020 | Time: 15:30-17:00 CEST
Clinicians and hematologists are invited to join the webinar − participation is free-of-charge.
---
Webinar topics and speakers
The webinar will comprise a series of short presentations from experts in AML. Following this, a live Q&A session will take place whereby the audience can submit questions to the speakers.
An introduction to the HARMONY Alliance, outlining current HARMONY activities in AML and updates on the ongoing analysis of the AML pilot project
• Lars Bullinger, Charité Berlin − HARMONY Partner and Leader of Work Package 2: Definition of Outcomes
Minimal Residual Disease in AML
• Gert J Ossenkoppele, Amsterdam University Medical Center (VUMC) - HARMONY Partner
Data submitted by GPOH and envisioned effect of AML data coming from adults
• Dirk Reinhardt, German Society for Paediatric Oncology and Haematology (GPOH) – HARMONY Partner
Moderator
• Francesco Cerisoli, European Hematology Association – HARMONY Partner
---
Learn more about HARMONY Research Projects in AML.
---
The HARMONY Alliance is a public-private partnership for Big Data in Hematology, established in January 2017. Our mission is to unlock and spread valuable knowledge on hematologic malignancies (blood cancers) among a large number of stakeholders. The ultimate goal of HARMONY is to harness and mine Big Data to speed up the development of improved treatments and treatment strategies for patients.
We currently have 53 Partners and 41 Associated Members from across 17 European countries, including 9 pharmaceutical companies and 7 European Patient Umbrella Organizations. The HARMONY Alliance is funded by the Innovative Medicines Initiative (IMI). Read more | Become involved.
---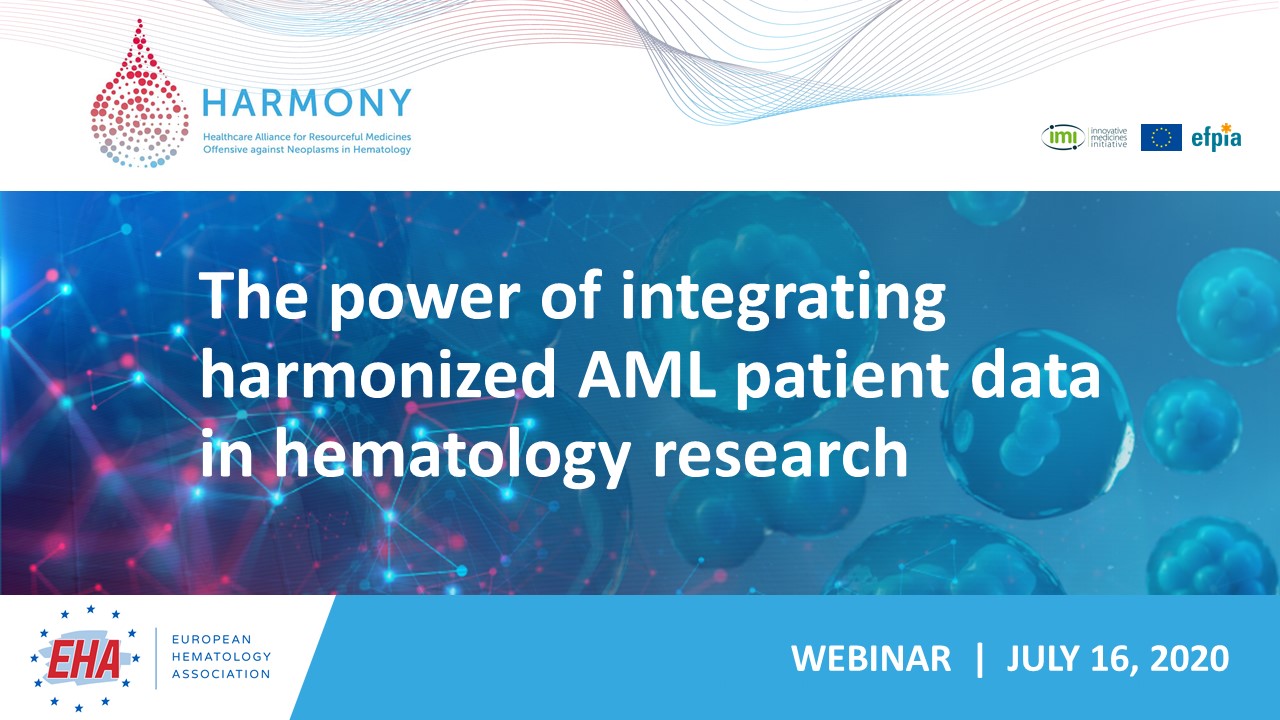 ---
Receive the latest news. Click here to subscribe!