In a recent news feature, the Innovative Medicines Initiative (IMI), funder of the HARMONY Alliance, highlighted HARMONY's efforts in managing the COVID-19 pandemic. This news article can be accessed here.
---
In the article, the IMI overviews the valuable contributions which 10 of its project are making in the acitivity against COVID-19. One of these projects is the HARMONY's COVID-19 data initiative. HARMONY invites organizations with data on SARS-CoV-2 (the virus which causes COVID-19) to come forward and contribute their data to the HARMONY COVID-19 Data Platform. This Data Platform, launched in March 2020, complements (or expands) the scientific commitment for the benefit of patients beyond the HARMONY Hematology Big Data Platform, which includes data on seven blood cancers.
In the IMI's news feature, other IMI Big Data for Better Outcomes (BD4BO) projects are also showcased. For example, EHDEN, a project that HARMONY often collaborates with is also mentioned. EHDEN aims to address the current challenges in generating insights and evidence from real-world clinical data at scale, to support with stakeholder decision making. EHDEN is currently working to harmonize COVID-19 data from across 25 data partners with the aim of improving our knowledge of this disease, as well as patient care.
Read the full article on the IMI website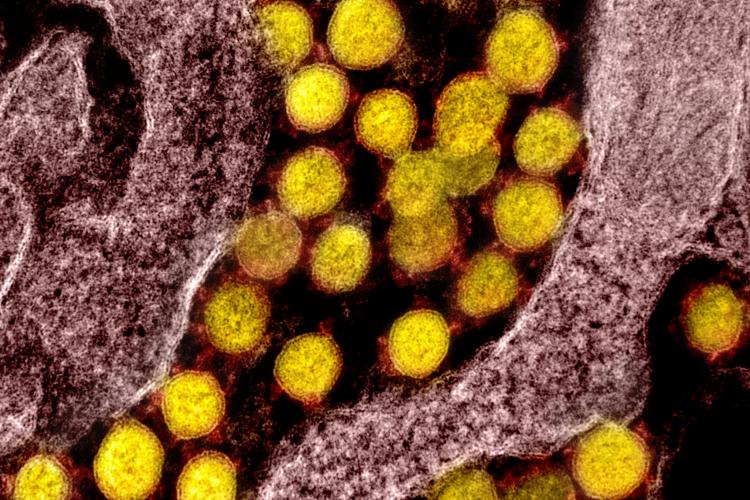 Particles of the SARS-CoV-2 virus, which causes COVID-19. Credit: National Institute of Allergy and Infectious Diseases, NIH
---
Learn more about HARMONY's activities against COVID-19 | Watch our expert-led HARMONY-EHA webinar on COVID-19
---
Receive the latest news. Click here to subscribe!