The Annual Congress of the European Hematology Association (EHA) will take place on 8-11 June 2023 in the Messe Frankfurt, Germany.
Apart from HARMONY Alliance abstract presentations, the congress will also feature the HARMONY Alliance session dedicated to the impact of Real-World Data and Real-World Evidence in research and clinical care.
---
Hybrid event: The EHA2023 Congress will offer a broad spectrum of scientific topics, clinical and basic research, covering benign and malignant blood disorders. In addition to the in-person event in Frankfurt, EHA2023 will also be broadcasted live on the online congress platform. After the live congress, EHA2023 will continue virtually at the Congress platform on 14-15 June 2023. To register for EHA2023, click here >. EHA is a highly valued founding Partner of the HARMONY Alliance.
---
Many HARMONY Alliance activities at EHA2023.
Let us meet in Frankfurt to explore how we can join forces to advance blood cancer research!
Read more below or download our special folder including all the details >
---
After more than six years of intensive collaboration, the HARMONY Alliance is now reaping the benefits of the HARMONY Big Data Platform. We developed a range of integrated data services to advance blood cancer research. These data services allow researchers to apply advanced techniques including statistical modelling, Machine Learning, Neural Networks and Deep Learning to the data. As a result, HARMONY data science teams can model complex processes such as disease progression, and they can identify new markers and perform risk stratification.
Through a wide variety of research and multi-stakeholder activities, we have utilized the power of Big Data. Scientists and physicians have teamed up to produce novel insights into the biology of HMs. To detect relevant patterns, they run new algorithms and perform analyses on the thousands of anonymized data sets stored in the HARMONY Big Data Platform. The results may be used to identify high-risk patients with greater reliability and to guide treatment choices in the future.
---
Many of our HARMONY Alliance Partners will be attending and are looking forward to connecting, in order to share the latest advances on data innovations in hematology and what this will mean for clinicians in their daily practice, now and in the future.
---

---
EHA2023 HARMONY Alliance abstracts: Results in ALL, CLL, APL and MDS.
We are proud to present the following approved abstracts:
Click here to find the links to the abstract >
---

---
EHA2023 HARMONY Alliance session: The impact of Real-World Data and Real-World Evidence on research and clinical care
Date/time: Sunday, 11 June from 09:45-10:45 hrs | s238 | Hall Goldman
The

power of data innovation

in hematology ⎯

Ignacio Quiles

(EHA)
The

power of collaboration

⎯

Jesús Maria Hernández Rivas

(IBSAL) and

Guillermo Sanz

(La Fe Health Institute)
The power of Big Data to

improve the treatment

of HMs ⎯

Amin Turki

(Universitätsklinikum Essen) on ALL,

Marta Sobas

(Medical University of Wroclaw) on AML and

Andreas Hochhaus

(Friedrich-Schiller-Universität Jena) on CML

Regulatory decision

improvement by strengthening the place of data analysis –

Kelly Plueschke

(European Medicines Agency, EMA)

Real-World Data and Real-World Evidence research

–

Kimmo Porkka

(University of Helsinki),

Natacha

Bolaños

(Lymphoma Coalition), and

Farzad Ali

(Pfizer)
---

---
EHA2023 HARMONY Alliance booth
Meet and connect with us at the EHA2023 exhibition in booth F.117 and in the Collaboration Plaza. Please visit us and let us explore how we can join forces, share data and collaborate.
---
Meet-ups to explain the Big Data Platform, you are welcome to join
Big Data has proven to offer new insights that can contribute to advances in novel therapies and more efficient medicines. Let us show you how big data analytics works using the HARMONY Big Data Platform large data sets. Reach out to us to book a demo time slot, email communications@harmony-alliance.eu.
---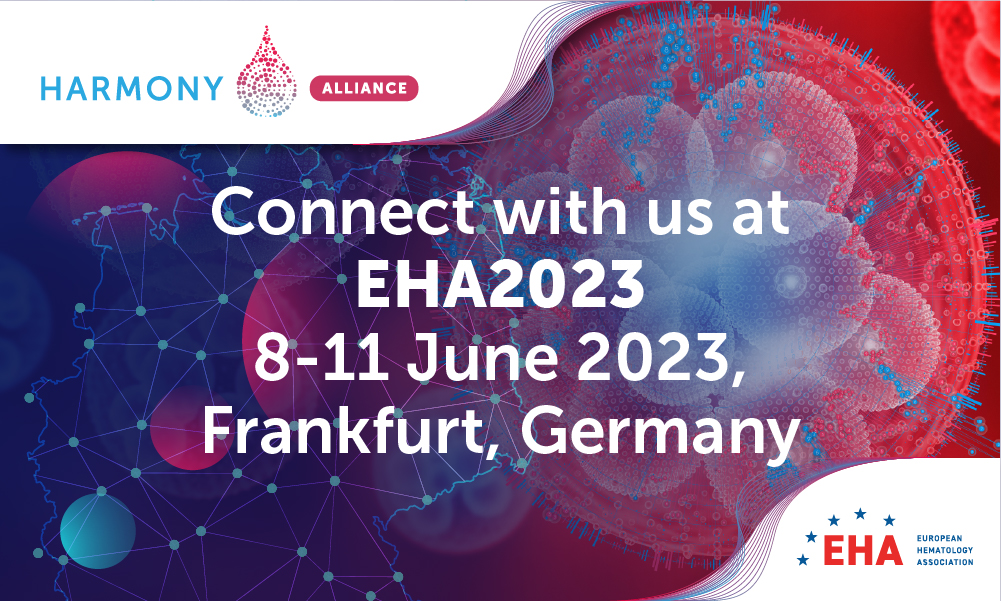 ---
#bigdataforbloodcancer: Accelerating Better and Faster Treatment for Patients with Hematologic Malignancies.
The HARMONY Alliance (HARMONY and HARMONY PLUS) is a partnership for Big Data in Hematology with more than 120 organizations such as hospitals, research institutes, patient organizations, pharmaceutical companies, regulatory agencies, IT companies, and medical network and associations such as EHA. Our mission is to unlock and spread valuable knowledge on Hematologic Malignancies (blood cancers) among many stakeholders, with the goal to harness and mine Big Data to speed up the development of improved treatments for patients and more effective treatment strategies.
HARMONY and HARMONY PLUS are funded through the Innovative Medicines Initiative (IMI), Europe's largest public-private initiative aiming to speed up the development of better and safer medicines for patients. Funding is received from the IMI 2 Joint Undertaking and is listed under grant agreement for HARMONY No. 116026 and grant agreement for HARMONY PLUS No. 945406. This Joint Undertaking receives support from the European Union's Horizon 2020 Research and Innovation Programme and the European Federation of Pharmaceutical Industries and Associations (EFPIA).
---
Receive the latest news. Click here to subscribe!