HARMONY Alliance Research Project title: Clinical impact of co-mutations in NPM1mut AML
---
Challenge
Acute myeloid leukemia (AML) is a heterogeneous disease, with genetic features known to be the most powerful predictors of variations in survival outcomes. Of these, NPM1 is one of the most frequent gene mutations in AML, affecting approximately 30% of patients. Although NPM1 mutations are considered a broadly favourable prognostic marker, the influence of co-mutations in other genes other than FLT3-ITD is poorly understood. Larger cohorts of AML patients are required to explore the full prognostic significance of gene co-mutations occurring with NPM1 and to assess their impact on clinical outcomes.
---
Project Partnership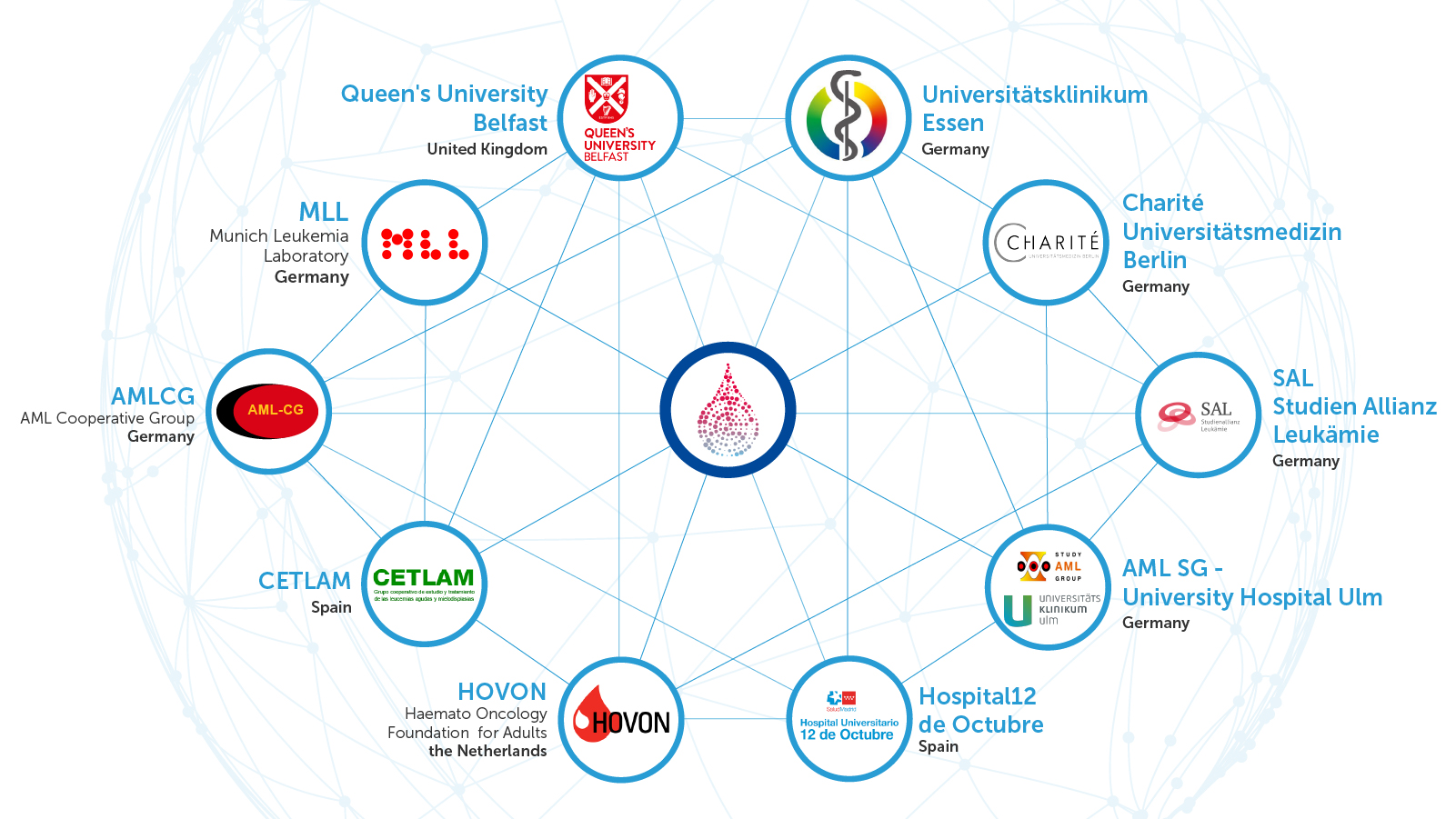 ---
Project Leadership
Alberto Hernández Sánchez, Hospital Universitario de Salamanca, Spain
Javier Martínez Elicegui, IBSAL, Salamanca, Spain
Lars Bullinger, Charite Universitätsmedizin, Berlin, Germany
Special reference is made to Konstanze Döhner, AMLSG, Ulm driven Cooperative Research Center, Ulm University, Germany
---
Impact
To better understand the NPM1 mutational landscape in AML.
To identify the most clinically relevant co-mutations occurring with NPM1 and evaluate their prognostic significance.
To refine existing risk stratification models for NPM1mut AML in order to guide clinical decision-making.
---
Project Summary
This study will analyse data on the large cohort of AML patients within the HARMONY Alliance. The mutational status of NPM1 and ~50 other genes will be assessed, alongside clinical variables. Overall, the study will consist of three key steps:
Firstly, the most frequent co-mutations occurring with NMP1mut AML will be identified.
Secondly, machine learning algorithms will be used to pinpoint clinically and prognostically relevant co-mutations.
Finally, findings will be simplified into a genomic prognostic model designed specifically for NPM1mut AML patients, which takes into account the various gene-gene interactions.
By leveraging the large number of AML patients within the HARMONY database, this study hopes to unravel the underlying mutational landscape of NPM1mut AML. The over-arching aim is to improve risk stratification models for NMP1mut AML and increase their prognostic accuracy, therefore helping to optimise treatment decision-making for patients moving forward.
---