Project title: Revised International Staging System for Multiple Myeloma: extended follow-up in the European clinical trial population and evaluation of the efficacy of different novel agents and treatment approaches in subsets of patients with standard- and high-risk features
---
Challenge
Validate and/or further improve the Revised-International Staging System for use in patients with Multiple Myeloma; Compare different therapeutic approaches in different groups of patients according to the prognostic group.
The clinical outcome for patients with Multiple Myeloma is heterogeneous with wide-ranging survival times. The Revised-International Staging System has been recently developed to stratify subgroups of patients with MM with differing prognosis and survival, however, this has only partly guided therapeutic choices.
---
Project Partnership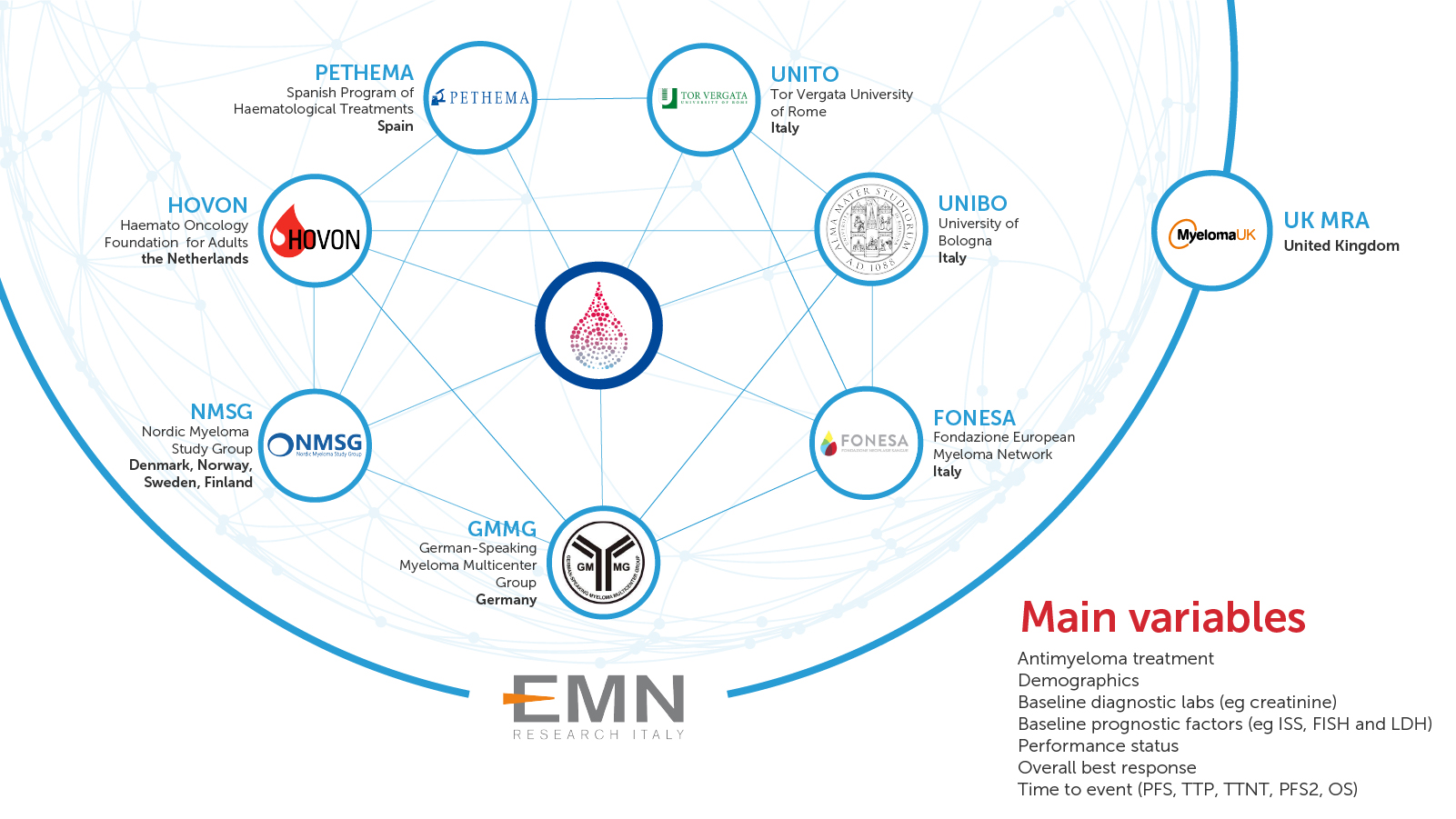 ---
Project Leadership
Mario Boccadoro, Università di Torino, Italy
Mattia d'Agostino, Università di Torino, Italy
Pieter Sonneveld, Erasmus MC, The Netherlands
---
Impact
Development of a prognostic system with high validity
To serve as a pilot project for MM in the HARMONY Big Data Platform
Moving towards personalized treatment
---
Project Summary
Consistent therapeutic progress in the treatment of Multiple Myeloma (MM) has been made in recent years, however high-risk patients still show an unsatisfactory prognosis. Participation in the HARMONY Alliance will provide a unique opportunity for the European MM community to draw together a wealth of data from a variety of sources to improve prognostication tools and to examine rare patient populations whose characteristics are difficult to describe using the data derived from single clinical studies. Approximately 10–20% of the MM population are considered to be high-risk patients more likely to experience relapse or death following standard treatment.
It is hoped that the HARMONY Alliance project will enable clinicians to examine a large patient population with the aim of elucidating whether one specific therapeutic approach may provide such high-risk patients with improved outcomes.
At present time, the prognostication of patients with Multiple Myeloma is based on many tools including the recently described Revised-International Staging System (R-ISS). This prognostic score has been developed thanks to a Europe-wide collaborative study involving 4.445 patients, however, further validation and optimization in a larger patient population would be beneficial.
 
The public-private partnership that will be the backbone of this HARMONY Alliance project will provide a longer follow up of the original 4.445 patients involved in the R-ISS development. Alongside this, additional datasets derived from randomized clinical trials conducted across Europe will be leveraged, with the aim of recruiting over 6.000 patients with MM into the HARMONY Big Data Platform. Study centers in locations including Italy, Spain, The Netherlands, Nordic countries, Germany and France will be providing data for incorporation into the MM database. The conduct of a study with such a large number of patients with MM is unprecedented in Europe. The initial data intake will be completed in early 2019, with the first analysis of the data available by mid-2019.
The key objective of this project is the validation and further improvement of the R-ISS. The researchers will analyze the outcome of different treatment approaches in patients with MM who exhibit both low- and high-risk features. This project is considered to be a pilot project by the wider MM community. The findings should assist in a move towards a personalized medicine approach for the treatment of MM.
---
Project communications and dissemination
---