The General Assembly of the HARMONY Alliance will take place in Salamanca, Spain, on the 25th and 26th September 2023.
---
Meeting venue: Edificio Histórico de la Universidad de Salamanca, Escuelas Mayores, Calle Libreros 19, 37008, Salamanca, Spain.
Program features:
Presentations of HARMONY Results in AML, ALL, APL, CLL and MM
Update and roadmap for unfinished HARMONY Research Projects in AML, MDS and MM
Tools for data visualization and analytics
HARMONY PLUS Research Project updates in CML
Roundtable – HARMONY PLUS: towards a mixed model. Lessons learnt from federated data initiatives in Europe
Updates about the HARMONY Alliance Foundation
Round table – How do international societies envision collaboration in the future?
Work plan for the next 18 months
Download the detailed agenda here >
---
Register on Eventbrite: click here to register!
The HARMONY Alliance will welcome its official HARMONY and HARMONY PLUS Partners and Associated Members to meet up and discuss research topics, achievements, the big data platform and future activities. All registrations are screened. Would you be interested to attend, however you are not an official HARMONY Alliance Partner or Associated Member? Please submit your motivation by email to qualify for a personal invitation, click here >.
---
Become involved
Are you interested in contributing to the HARMONY Alliance by providing data or other form of service? Send us an email: communications@harmony-alliance.eu.
---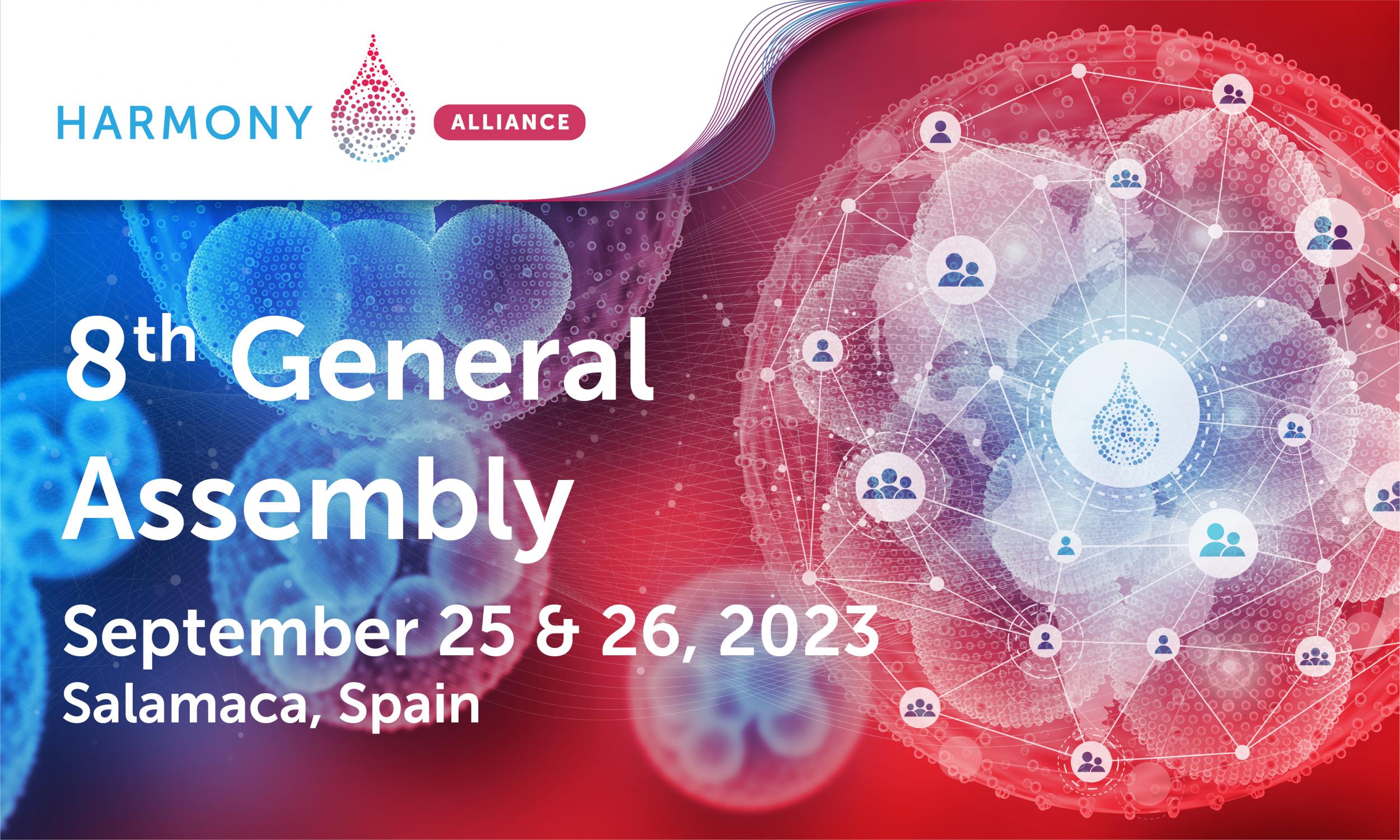 ---
#BigDataforbloodcancer | Big Data to accelerate better and faster treatment for Patients with Hematologic Malignancies
The HARMONY Alliance is a Public-Private Partnership for Big Data in Hematology including over 120 organizations such as European medical associations, hospitals, research institutes, patient organizations, pharmaceutical and IT companies.
---
The HARMONY Alliance is funded by the Innovative Medicines Initiative (IMI) (now called Innovative Health Initiative, IHI) of the European Commission and is currently running two projects: HARMONY (January 2017-June 2023) and HARMONY PLUS (October 2020-September 2023). In addition to the research projects that exploit the HARMONY Big Data Platform, the HARMONY Alliance is running Delphi surveys to develop core outcome sets for HMs, as well as Health Technology Assessment projects and multi-stakeholder activities.
HARMONY uses Big Data analytics to accelerate the development of more effective treatments for blood cancer patients. Data are stored in the HARMONY Big Data Platform, which has already identified over 165,000 anonymized patient records, making it one of the largest databases of its kind. Leading research teams are currently using this wealth of information to answer critical questions about hematologic malignancies that cannot be addressed with other methods.
---
---
Receive the latest news. Click here to subscribe!