Co-operative working groups, hospitals and academic
institutions are invited to collaborate and contribute data
to the HARMONY Alliance.
Already over 100 public-private organizations from 17 European countries joined us.
Now we need you too to accelerate! Find out what we can offer you, watch our video >
---
---
#BigDataforbloodcancer | About us
Big Data analytics will accelerate better and faster treatment for Patients with Hematologic Malignancies
The HARMONY Alliance is a Public-Private Partnership [HARMONY & HARMONY PLUS] funded by Innovative Medicines Initiative. HARMONY uses big data technologies to improve the treatment of blood cancers i.e. Hematologic Malignancies. Key outstanding questions in the blood cancer field can only be answered by studying large numbers of patients.
We developed the HARMONY Big Data Platform, assembling harmonized clinical data from approx. 60.000 European patients. This will enable HARMONY Research Project Teams to characterize the molecular landscape of the various blood cancers, understand their pathophysiology, and identify novel drug targets. In addition, it will allow to reliably predict disease course and drug response for subgroups of patients. Ultimately, this should result in tools to rapidly select the most promising treatment strategy for a particular patient. In parallel, we are developing core outcome sets for blood cancers and organizing multi-stakeholder activities.
Please send us an email expressing your interest >
---
---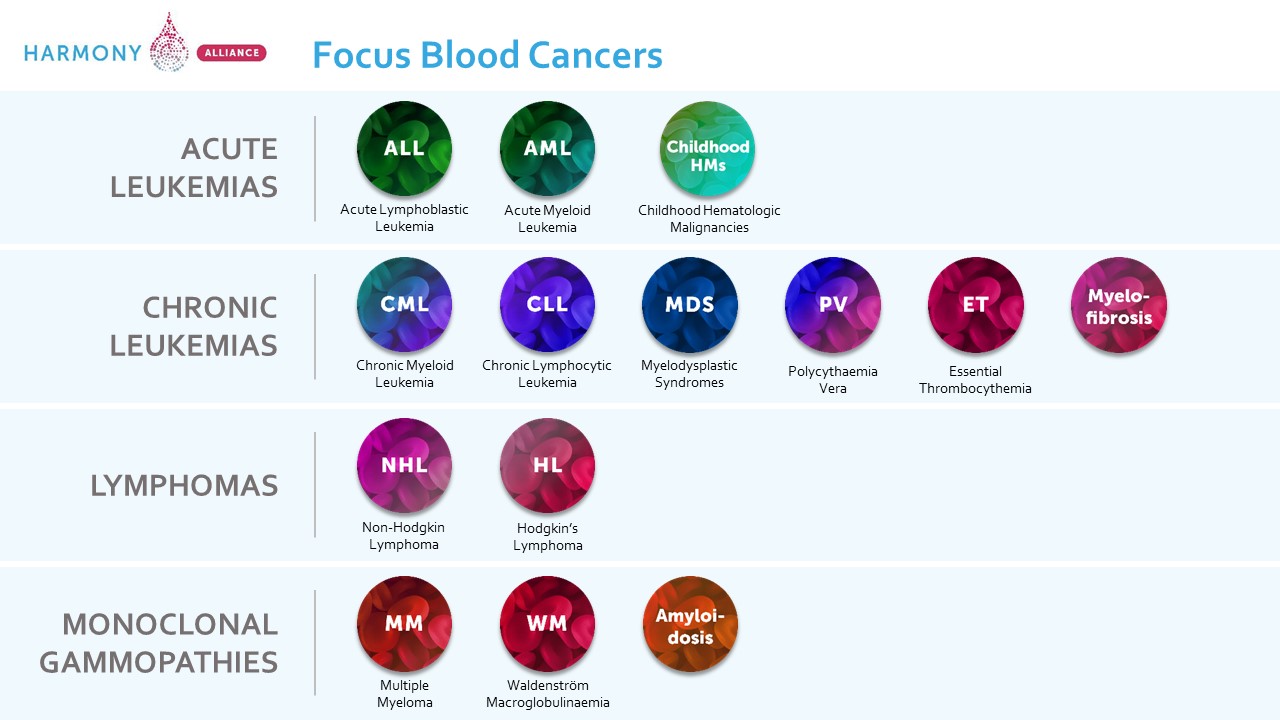 ---
---
HARMONY and HARMONY PLUS are funded through the Innovative Medicines Initiative (IMI), Europe's largest public-private initiative aiming to speed up the development of better and safer medicines for patients. Funding is received from the IMI 2 Joint Undertaking and is listed under grant agreement for HARMONY No. 116026 and grant agreement for HARMONY PLUS No. 945406. This Joint Undertaking receives support from the European Union's Horizon 2020 Research and Innovation Programme and the European Federation of Pharmaceutical Industries and Associations (EFPIA).
---
Receive the latest news. Click here to subscribe!